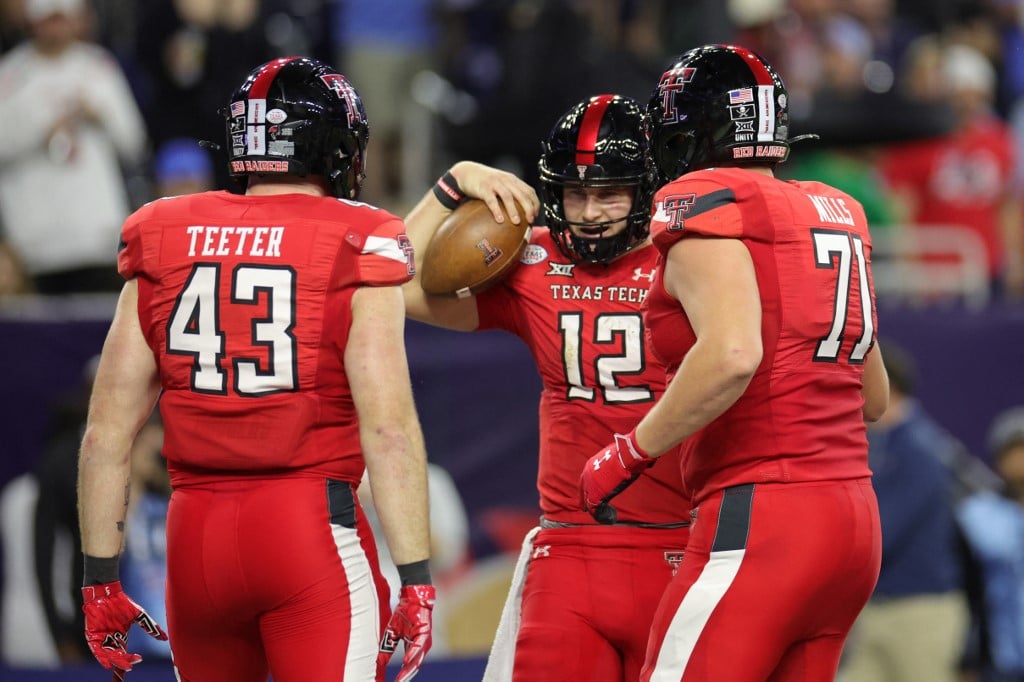 NCAAF Pick: Texas Tech Over 7.5 Wins (+110) at Caesars Sportsbook
The Texas Tech Red Raiders will have one of the best offenses in the Big 12. Will that be enough to earn eight or more wins overall this season?
---
Texas Tech Preview
The Texas Tech Red Raiders went 8-5 overall and 5-4 in the Big 12 in Joey McGuire's first year as head coach.
It was a surprise that Texas Tech finished the Big 12 with a winning record. After all, the Big 12 is the most competitive conference from top to bottom in the Power 5.
The Red Raiders have only had nine winning seasons in 27 years. But mark up last year as a win.
Can Texas Tech keep that momentum into 2023?
Here's an outlook on the Texas Tech Red Raiders for the 2023 season.
The Offense
Texas Tech added one of college football's most underrated offensive coordinators last season. Zach Kittley developed Bailey Zappe at Houston Baptist and Western Kentucky. Then he came over to Texas Tech and helped the Red Raiders earn over 460 yards per game with 34 points.
This Texas Tech team led the entire Big 12 in passing yards per game. They'll have Tyler Shough start again. The former Oregon Duck had just 20 or more attempts in five games. In those five games, the Red Raiders won four of five.
Injuries have derailed his career, but if he can stay healthy, Texas Tech can be dangerous. He's got the supporting cast to be dominant.
The receiving core includes Jerand Bradley and Myles Price. Both added 51 catches last year. He's also got Xavier White lining up, who added 45 catches last season.
Essentially, his top five receivers will all return, along with Baylor Cupp and Mason Tharp, who will be the two prominent tight ends on the team. They've also added Drae McCray from Austin Peay, who could become a significant contributor.
The ground game should also be very good with Tahj Brooks. He added 681 yards and seven touchdowns last season. Plus, Cam'Ron Valdez will get an opportunity behind Brooks. He's got plenty of potential himself.
The offensive line needs to improve drastically. However, Texas Tech addressed that and added Rusty Staats at center. That should help.
The Defense
The defense lost a lot of talent from last year's team. Tyree Wilson is in the NFL, and Krishon Merriweather and Kosi Eldridge won't be around anymore.
However, Tony Bradford should lead the team in pass rushing, and Jaylon Hutchings also can be excellent on the line. Texas Tech also added a Syracuse transfer in Steve Linton, who should be able to play multiple positions.
They'll also have Jesiah Pierre and Rodriguez at linebacker. Those two are going to be very good tacklers.
Meanwhile, the secondary is loaded with talent and experience. Dadrion Taylor-Demerson led the team with interceptions and had 74 tackles last season. Tyler Owens will play his fifth year, and they brought a transfer from San Diego State to CJ Baskerville.
Rayshad Williams and Malik Dunlap will fill the corner spots. Both should do well breaking up passes.
---
Texas Tech Win Total
Top sportsbooks don't even think Texas Tech can win eight games this year. They've got Texas Tech Over 7.5 wins at +110. Therefore, the probability that Texas Tech will go below eight wins is higher.
Texas Tech will begin the season against Wyoming. That should help the Red Raiders start the season with a win.
At 1-0, the Red Raiders will likely lose a home game to Oregon, but they'll bounce back against Tarleton State in the third game. They'd be 2-1 with a road game against West Virginia and a home game against Houston. The Red Raiders should end up winning both. They'd be 4-1 up to this point.
The Red Raiders will take on Baylor on the road through five games. That'll be a difficult one. They'd be 5-2 with Kansas State on the road. That's another loss for the Red Raiders.
Texas Tech would need one more win to get bowl eligible but three more to earn the win total. The Red Raiders should beat BYU on the road, but they'll lose to TCU at home. With six wins, Texas Tech would need two more wins in their last three games against Kansas, UCF, and Texas.
Texas is always overrated, but even if the Red Raiders lose to Texas, I think they'll be able to get by Kansas and UCF. Therefore, I'd back the Over for Texas Tech's win total at the NCAAF odds board.
NCAAF Pick: Texas Tech Over 7.5 Wins (+110) at Caesars Sportsbook
---