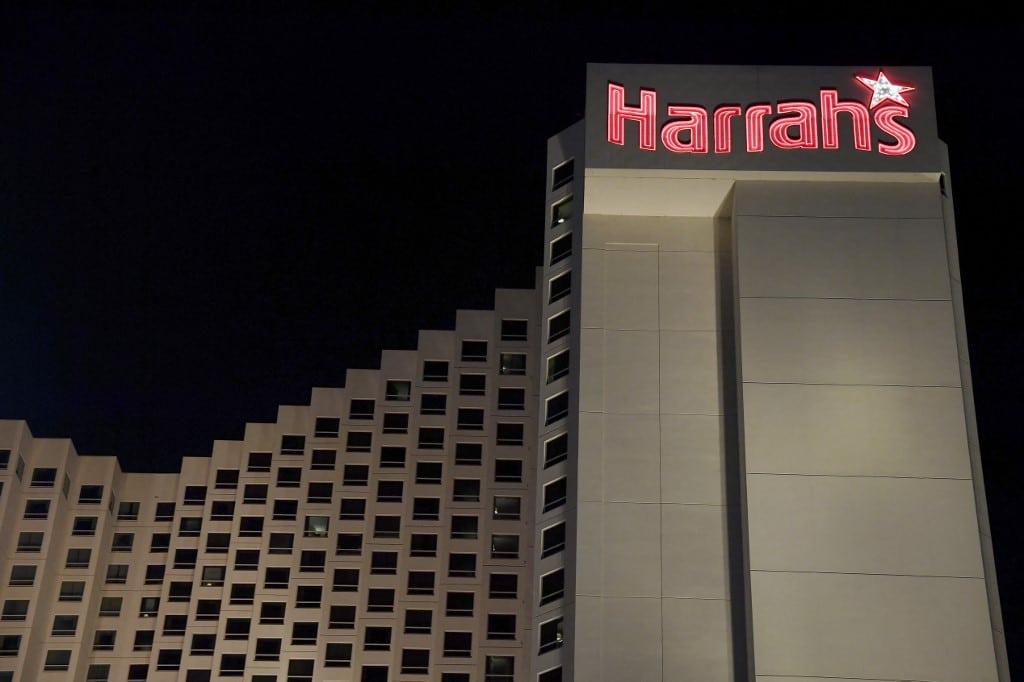 Each week OddsTrader will take a brief look at some of the more important stories permeating the U.S. sports betting and gambling landscape. This time it's all about one of the top U.S. sportsbooks.
Below we report on those that made headlines recently and will update our readers as events unfold.
Caesars Opens Harrah's Casino in Nebraska
And then there were three. That's right, three casinos are operating in Nebraska after the grand opening of Caesars Harrah's Casino at AG Park in Columbus last week. At the ribbon cutting ceremony, Don Ostert, Senior Vice President and General Manager of Harrah's Columbus, NE Racing & Casino was on hand and said:
"Opening the Columbus Casino is a huge milestone for us in the Harrah's Columbus project. With the tremendous support from the community of Columbus, we're proud to open our doors and welcome guests to the temporary facility for the first time."
Harrah's Columbus, NE Racing & Casino tweeted, "We are officially open! Bring your ID and head on over! 822 15th St. Columbus, Nebraska (Ag Park) 21+ Gambling Problem? Call 1-833-BETOVER (1-833-238-6837) in Nebraska.
#ColumbusCasino #NowOpen #Nebraska Casino"
Harrah's Columbus was built in a partnership between Caesars Sportsbook and Columbus Exposition and Racing. It is a temporary facility that houses more than 250 slot machines and electronic table games and is Caesars' first land-based foray into the Nebraska gaming market. There is also simulcast racing available which features the longest thoroughbred racetrack in the state.
More to Come
Caesars Entertainment Regional President Todd Connelly commented on the work it took to get the newest casino offering in the Cornhusker State built and operating.
"It's been a long road from 'where do you start a casino?' – it has to go in into this building at Ag (Park) and working out a deal with that group of great individuals from Columbus," Connelly said.
"Our design and construction teams (made) it happen (from a) facility that was just a bare building; now it's an amazing casino."
A permanent facility is currently being constructed along Highway 81, northwest of Columbus, and will boast 28,000 square feet of casino and sportsbook space. The casino will feature 500 slot machines and 14 table games while a Marriott Fairfield Inn and Townplace Suites will be connected via a walkway connecting the two properties. A spring 2024 grand opening for the permanent facility is anticipated.
The other two casinos operating in Nebraska also have plans for permanent venues with the War Horse Casino seeking a fall grand opening while Grand Island is eyeing a 2025 opening of its permanent digs.
---
Caesars Upgrading Mobile Betting App in Nevada
To better serve its customers, the Caesars Sportsbook by William Hill Nevada mobile betting app went dark in order to light up the mobile sports betting landscape in Nevada at a later date. The mobile makeover is expected to bring a more satisfying experience to its users as well as same-game parlays and more ways to wager.
Caesars Digital president Eric Hession said, "Nevada is an important place for Caesars Entertainment and remains at the heart of everything we do for our customers here. We're thrilled to bring our best sports wagering platform to our devoted sports bettors in this market and look forward to providing them with a sports wagering experience that treats them like royalty.
"We'd like to thank the Nevada Gaming Control Board for making this possible and we thank our customers for their patience as we complete the work to get them back in the game with our updated app."
Customers in Nevada can still access their accounts and wager at Caesars' retail locations in the Silver State. When attempting to log in to the offline app, a message reads, "Access to accounts is temporarily unavailable – including wagering and account history. Our top priority is to get our customers back in the game as soon as possible. Customer[s] can expect updates from us throughout the account transition."
Seamless Betting Experience
The upgrade is due, at least in part, to the calamitous event which took place on Super Bowl Sunday of this year when the app crashed shortly before kickoff and remained down until the following day. The new and improved app is already live in other states and those with the Nevada version will be migrated automatically when it goes live.
Moreover, those with William Hill app accounts will remain active on its current platform and there will be no service interruptions. However, those accounts will undergo a similar upgrade after the Caesars Nevada app is ultimately completed.
The timing of the upgrade was carefully planned to avoid any conflicts with the NBA and NHL playoffs. Now that both sports have concluded their postseasons, the dog days of summer are upon us and sports betting is historically at its lowest point with only MLB and a smattering of golf and tennis events as the highlights.
---