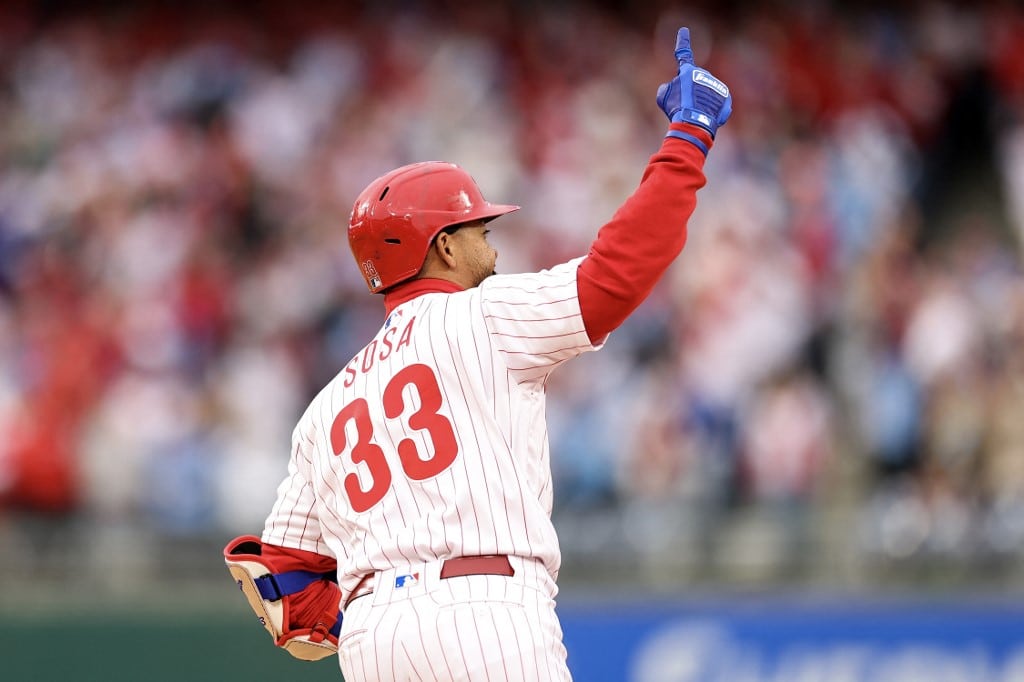 ---
Picks Summary
Edmundo Sosa to Get a Hit (-150) at BetMGM
Jake Cave to Get a Hit (-150) at BetMGM
Alec Bohm to Get a Hit (-225) at BetMGM
---
What does a young pitcher have to do to get some respect? The Seattle Mariners are sending breakout sophomore stud George Kirby to the mound this Thursday to take on the Philadelphia Phillies; Kirby may be all that, but the MLB odds at BetMGM have several Philadelphia hitters available at bargain prices for your player props.
Here are the three most promising choices on the list, if we're interpreting the projections correctly:
Edmundo Sosa
Jake Cave
Alec Bohm
The prop in question for all three players is whether they'll get a hit, with Sosa and Cave each priced at -150 and Bohm at -225. Sosa is clearly the standout of the three in terms of betting value; how is any of this possible against what should be quality pitching from Kirby and the Mariners' bullpen?
---
Thursday, April 27, 2023 – 01:05 PM EDT at Citizens Bank Park
---
---
Who Is George Kirby?
The Mariners made like jewel thieves at the 2019 MLB Draft when they took Kirby with the No. 20 overall pick. He was awesome at every level of baseball up to that point, having grown up in New York and played college ball with the Elon Phoenix; Kirby continued being awesome as he quickly worked up the ladder and joined the parent club in May 2022.
He hasn't stopped yet. Kirby blanked the Tampa Bay Rays through six innings in his big-league debut, then set the MLB record later that year with 24 consecutive strikes to start a game, the Washington Nationals being the patsy. He finished his rookie season with a 3.33 xFIP and 3.0 WAR at FanGraphs, striking out 9.21 batters per nine innings.
Kirby might be in the midst of a sophomore slump in 2023. His xFIP has grown to 4.18, which is still impressive for a 25-year-old prospect, but not otherworldly by any means. Kirby's fastball and slider are a bit slower this year, at least in a small sample size of 22.2 innings; his strikeouts are down to 6.75 per nine innings as a result.
Is Seattle's Bullpen Any Good?
It's performed at a high level thus far, ranking sixth on the FanGraphs WAR charts. Good health has been hard to come by lately, though; Andres Munoz (2.04 xFIP last year) is recovering from a strained right shoulder, and depth is an issue now that starter Robbie Ray (3.58 xFIP last year) is out until 2024 with a strained elbow.
Seattle's remaining arms have had trouble dealing with our top baseball pick. Sosa (14-for-45, .311 BA) only has nine lifetime at-bats versus current Mariners, but he has three hits and two home runs for a 1.333 OPS. He'll probably get another hit this Thursday.
That's if he plays. FantasyData projects Sosa to sit this one out after playing five games in a row, but other seamhead sites we're keeping track of have Sosa right in that one-hit range, after he registered base hits during each of the first two games in this three-game set with the M's.
MLB Prop Pick: Edmundo Sosa to Get a Hit (-150) at BetMGM
---
What About Cave and Bohm?
You might remember our other two Phillies from last Friday's MLB player props, where we had Cave at -165 and Bohm at -250 to get a hit off the Colorado Rockies – which they did, alongside Nick Castellanos at -230.
We could recommend Castellanos again at -210 for Thursday's contest, but we're adding Sosa to the mix instead. Cave is our No. 2 pick this time; FantasyData projects him for 0.95 hits against the Mariners, with Bohm pegged for another 1.13 hits.
Unfortunately for Cave, he's only 1-for-8 lifetime off current Seattle pitchers, but most of those at-bats were against starters – Cave's one hit was against M's closer Paul Sewald. Bohm (4-for-13, .308 BA against current Mariners) also got a hit off Sewald in their only encounter, and it was a double.
Neither has faced Kirby's avalanche of pitches, mind you. But at least it's supposed to be a lovely day at the ballpark, with afternoon temperatures in the mid-60s and light winds under partly sunny skies. That's the kind of weather we want to see for our MLB prop picks, and Citizens Bank Park is the right location, with a park factor of 101 for hits according to Baseball Savant. Bet accordingly.
MLB Prop Pick: Jake Cave to Get a Hit (-150) at BetMGM
MLB Prop Pick: Alec Bohm to Get a Hit (-225) at BetMGM
---