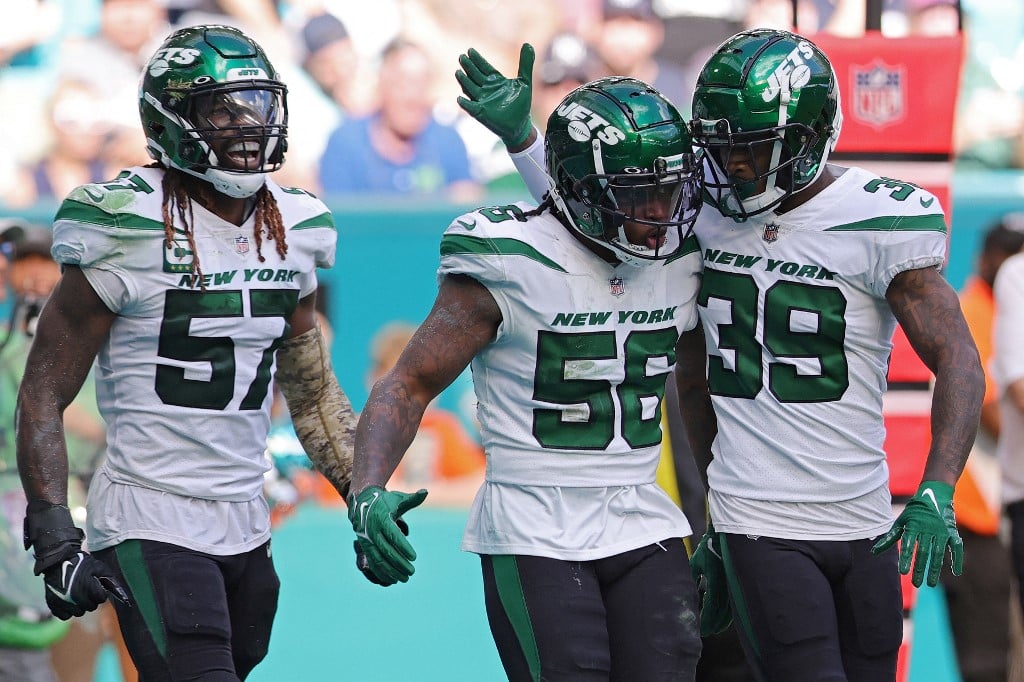 NFL Pick: New York Jets Over 9.5 Wins (-132) at BetMGM
---
NFL teams are currently holding voluntary workouts as we near the end of May, but the sportsbooks have already released season win totals this week. You can already get a sense of how well (or how poorly) each team is expected to do in the 2023 season.
Using the OddsTrader Team Futures page for team win totals, we are pinpointing the three bets we like the most that you should consider well before Week 1 kicks off.
Picks Summary
New York Jets Over 9.5 Wins (-132) at BetMGM
Pittsburgh Steelers Over 8.5 Wins (-137) at BetMGM
Tampa Bay Buccaneers Under 6.5 Wins (-137) at BetMGM
---
---
New York Jets: Over/Under 9.5 Wins
The Jets have won 10 games just once (2015) in the last dozen seasons, but you may have heard there is a new quarterback in town. Before he gets to Canton, Aaron Rodgers is following in Brett Favre's footsteps by going from Green Bay to New York. While Jets fans may remember that Favre's move did not work out, it did when the team was 8-3. Only an injury ruined Favre's play down the stretch as that team flamed out and finished 9-7 to miss the playoffs.
Rodgers is turning 40 years old in December and is coming off arguably the worst season of his career. This raises some alarm bells, but you do have to consider that Rodgers still led a weaker Green Bay team to an 8-9 record last year despite no true No. 1 receiver and another subpar defense.
Despite the struggles Rodgers had without Davante Adams, he still led the Packers to an offense that ranked No. 9 in yards per drive and No. 14 in points per drive. If the Jets had that offense instead of one that ranked No. 28 in yards and No. 29 in points, then they likely would have been in the playoffs instead of 7-10 last year.
Ending the Playoff Drought?
The Jets lost five games where they did not allow 21 points last year. That simply does not happen with Rodgers, who will have a No. 1 receiver in Garrett Wilson, the Offensive Rookie of the Year.
He also has the same offensive coordinator (Nathaniel Hackett) he won two of his four MVP awards with in 2020-21. Rodgers also could have the best defense since his 2010 Green Bay unit that helped win his only Super Bowl.
We do not need to project the Jets to go all the way to the Super Bowl this year. But winning 10 games with one of the best quarterbacks of all time, who should be energized with some advantages he lacked in Green Bay last year, is not asking for that much.
While those first six weeks of the schedule before the bye look daunting, if the Jets can hang in there and improve their play as the season goes on, Rodgers to New York should be enough for over 9.5 wins and to end the playoff drought for the Jets.
NFL Pick: New York Jets Over 9.5 Wins (-132) at BetMGM
---
---
Pittsburgh Steelers: Over/Under 8.5 Wins
A 2-6 start in 2022 looked like the Steelers would have their first losing season under Mike Tomlin, but once again, he avoided it with a 9-8 finish. Pittsburgh's 19 consecutive seasons without a losing record are tied for the 2nd-longest streak in NFL history. Only the Cowboys (21 years) have a longer streak.
Pickett's Progression and Watt's Impact
Fittingly, the line is right on that number of 8.5 wins again, and this one likely comes down to how much quarterback Kenny Pickett can improve in his second year. After the bye week, the Steelers ranked No. 5 in first downs and were No. 1 in the league at converting on third down (54.3%) over all team's final 9 games.
After throwing 8 interceptions in his first 165 passes, Pickett was picked just once in his final 224 throws. The run game also stepped up, and George Pickens is one of the most exciting second-year receivers in the league.
But Pickett will need to step up and do more than be the quarterback who led a couple of game-winning touchdown drives late in the season. As good as those drives against Baltimore and Las Vegas were, you are not going to prosper in this league winning games 13-10 and 16-13 all the time. We need to see more touchdowns from Pickett, as the Steelers were just No. 17 in scoring during the final 9 games of the season.
However, the Steelers finished 9-8 despite the lack of explosive plays and a defense that was missing its best player, T.J. Watt, for half the season. Had Watt been available every week, the Steelers very well could have won those close games with the Patriots, Browns, Jets, and Dolphins that ultimately cost them another playoff appearance.
A healthy Watt is as impactful as any defensive player in the NFL, so hopefully his durability is not taking a turn for the worse like it did for his brother J.J. in Houston years ago.
Schedule Favors Steelers
The schedule sets up very favorably for the Steelers to get off to a much better start than 2-6 this year. They do not see the Bengals until Week 12, they draw the weakest AFC division (South), and they do not have to face teams like the Chiefs, Bills, or Eagles.
After a solid draft and some hopeful improvement at the quarterback position, the Steelers have a real shot to extend this streak to a 20th season by winning over 8.5 games.
NFL Pick: Pittsburgh Steelers Over 8.5 Wins (-137) at BetMGM
---
---
Tampa Bay Buccaneers: Over/Under 6.5 Wins
Tampa Bay's 8-9 record last year was really a mirage as Tom Brady worked his devil magic one last time to get comeback wins against the Rams, Saints, and Cardinals – three bad teams that shot themselves in the foot in the fourth quarter.
The Buccaneers played more like a 5-12 team, and the decline of the roster has been a multi-year process with several retirements. The downgrade to Todd Bowles at head coach cannot be ignored, and he is the only coach to have a losing record with Brady as his quarterback now. He also has lost 11-plus games in his previous three seasons as a coach for the Jets.
A Weak Lineup
Giving Bowles a new quarterback in Baker Mayfield is not going to improve on the problems last year when the team had no running game to speak of, and Brady could not get the ball down the field to his receivers.
Mayfield had a miracle comeback win against the Raiders after joining the Rams, but that says more about the 2022 Raiders, who blew six fourth-quarter leads. Mayfield is statistically one of the worst quarterbacks in the league at coming from behind, and the Bucs will have to face a first-place schedule with opponents like the Eagles, Bills, and 49ers.
The Buccaneers had three draft picks in the top 150 selections and opted for three linemen (two defense, one offense). Good to build a future foundation but not the kind of picks that will move the needle for the team in 2023.
Conference Rivals a Though Challenge
The NFC South may still be a poor division, but the Buccaneers were already very fortunate to win it last year. The Panthers upgraded with the hiring of Frank Reich and drafting of No. 1 pick Bryce Young. The Saints got Derek Carr at quarterback. The Falcons seem confident in Desmond Ridder and added another stud skill player in Bijan Robinson for their run-heavy attack.
This Tampa Bay team has "down year in a rebuild" written all over it, and it would not be a shock if it is in the running for the No. 1 pick in the 2024 draft. Take away Brady's lucky horseshoe and those miracle wins last year become ugly losses to bad teams in 2023. Take the under 6.5 wins.
NFL Pick: Tampa Bay Buccaneers Under 6.5 Wins (-137) at BetMGM
---
---