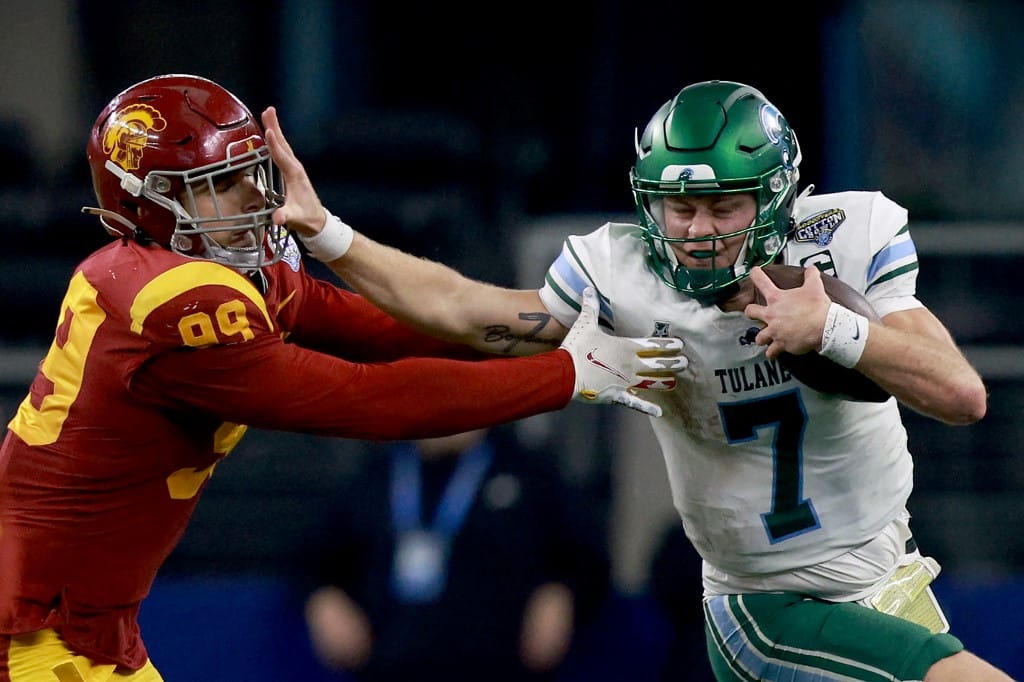 NCAAF Pick: Tulane Over 9.5 Wins (+120) at Bet365
---
Ten victories are all the Tulane Green Wave needs to claim the 2023 AAC title and beat the college football odds. Is it a deadbolt lock?
The Tulane Green Wave is a legitimate Top 25 team. Any way you measure it, Tulane (11-2 SU and ATS during the 2022 regular season) made the grade last year – even the College Football Playoff computers agreed, putting the Green Wave at No. 16 on their final rankings.
This is a big deal. Tulane wasn't the only team outside the Power 5 (aside from independent Notre Dame at No. 21) who cracked the CFP Top 25; Troy and UTSA took the last two spots after finishing with identical 11-2 records. But those records were achieved in the Sun Belt and Conference USA, respectively.

The Green Wave did their work in the American Athletic Conference, easily the best among the Group of 5. Or at least it was in 2022; the gap between the AAC and the rest of the pack is closing fast, and Tulane is poised to take advantage in 2023.

They're also in very good shape to repeat as American champions. As we go to press, the Green Wave are +200 favorites to retain on the NCAAF futures market at Bet365, and they're looking at a win total of 9.5 for the regular season. Granted, the Over is priced at +120, but we're predicting 10 wins for Tulane – and that might be their floor this year.
My Wave
We're not saying you should have Tulane win the American in your college football picks; we've already identified Memphis (still +800 at Caesars Sportsbook) as the preferred choice in our AAC betting preview. We're also not expecting them to go 11-2 ATS again like they did last season.

This is still the best team in the conference, though, at least on paper. And this conference is about to get a whole lot easier; Cincinnati, UCF, and Houston are all defecting to the Big 12, to be replaced by the following six Conference USA emigres – listed here in order of their 2022 Simple Rating System numbers at Sports Reference:
UTSA (plus-5.36 SRS)
UAB (minus-0.98)
North Texas (minus-2.71)
Florida Atlantic (minus-6.44)
Rice (minus-9.45)
Charlotte (minus-16.23)
The aforementioned Roadrunners are the only team on this list that performed better than the FBS average last year, and as luck would have it, Tulane (plus 11.53 SRS) gets to host UTSA for their regular-season finale on November 25. They also host UAB on September 30, and North Texas on October 21.

The remaining ACC home slate should be a cakewalk for Tulane. Their biggest obstacles will be on the road, specifically Memphis (plus-4.14 SRS) on October 13 and East Carolina (plus-4.41) on November 4. Chances are the Green Wave will lose one of those two games.

If we conservatively pencil in their September 9 non-con home game against Ole Miss (plus-8.36 SRS) as a scheduled loss – we're still waiting for the opening NCAAF odds at press time – that leaves 10 wins for Tulane before the postseason rolls around. Let the mayhem begin.
On the Fritz
You definitely have to like what Willie Fritz has done with this program since he took over in 2016. Tulane has been playing college football since 1893, with rare bouts of success along the way; before Fritz came along, the last time the Green Wave were ranked was 1998, when they went undefeated in Tommy Bowden's second and final year at the helm before he bolted for Clemson.

Would you believe the 2022 Green Wave was better than Bowden's team? It's true, according to the plus-11.51 SRS that the 1998 squad posted. That was back when they were still in Conference USA, playing a much softer schedule than anything Tulane has seen since joining the American in 2014.

Fritz will have several of his top players back for 2023 – on offense, that is. Put QB Michael Pratt behind the best offensive line in the conference, with RB Shedro Louis (Liberty) and WR Lawrence Keys (Notre Dame) replenishing the skill players around him, and Tulane should have no trouble matching last year's No. 25-ranked offense on the F+ charts at BCF Toys.

That No. 40 defense, though. There are a lot of holes to fill here. Fritz will lean heavily on safety Kam Pedescleaux (Louisiana), who immediately becomes one of their best players; safety AJ Hampton (Northwestern) is another senior who needs to be ready right out of the box.
---
The Pick
This turnover on defense might be enough to prevent Tulane from winning 11 games again this year, but 10 victories in the watered-down AAC? Bet accordingly at one of the top sportsbooks.

NCAAF Pick: Tulane Over 9.5 Wins (+120) at Bet365
---