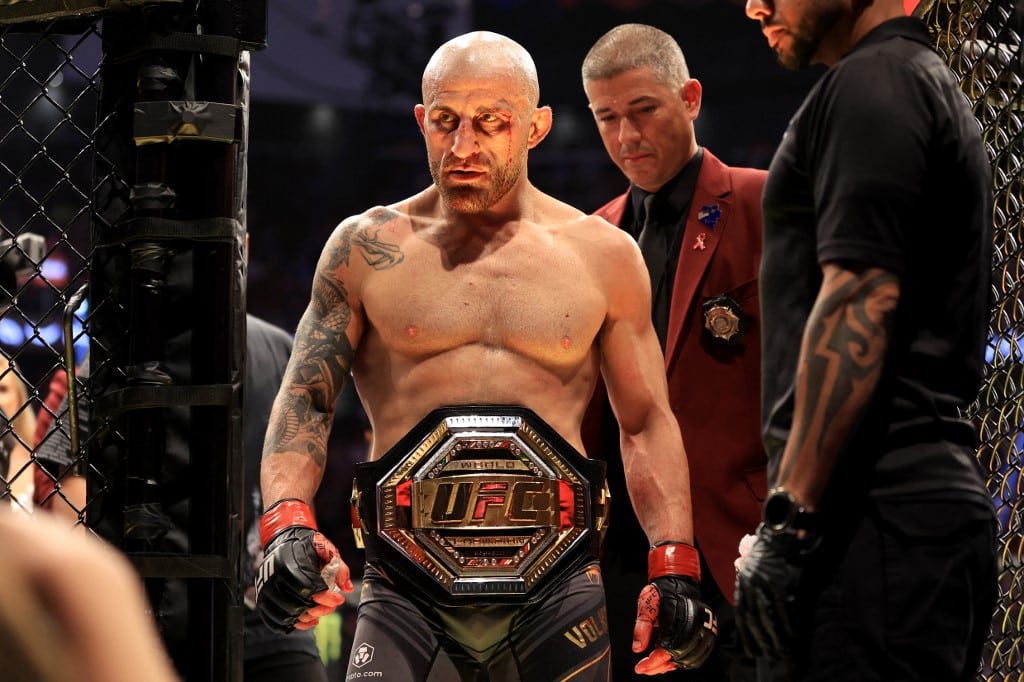 UFC 290 is set to blow the roof of the T-Mobile Arena in Vegas this Saturday, and a main event dual between featherweight king Alexander Volkanovski and Yair Rodriguez is the perfect headline.
Not just one, but two title bouts will top the bill as Brandon Moreno defends his flyweight strap versus a familiar foe in Alexandre Pantoja.
Let's waste no more time and dive right into the most noteworthy betting picks for the UFC 290 main and co-main events.
Top UFC 290 Picks
---
UFC 290 Featherweight Championship Bout
Saturday, July 8, 2023 – 11:59 PM EDT at the T-Mobile Arena
---
Worthy challengers for Alexander Volkanovski (25-2-0 pro-MMA) have been hard to come by. So much so, that we witnessed a trilogy between himself and Max Holloway and a move up in weight divisions as the Australian challenged for the lightweight championship.
In an unsuccessful attempt, albeit an incredibly close fight versus Islam Makhachev, Volkanovski has returned to 145 lbs to defend his crown against a new and worthy opponent.
Yair Rodriguez (15-3-0) has battled his way through the featherweight rankings. And finally, after eight years on the roster, overcoming countless setbacks, the human highlight reel is one win away from tasting UFC gold.
Volkanovski vs. Rodriguez: Fight Tape Analysis
Needless to say, Rodriguez will go down as a UFC legend, whether he obtains the featherweight championship or not. A style compromised of sniper-like, versatile offensive striking has provided some of the best KO/TKO stoppages in the promotion's history.
Unfortunately, the technical striking intricacies of Volkanovski's skill set are unlikely to fall victim to such flashy techniques. Spinning elbows, wheel kicks, and unpredictability has assisted Rodriguez to date. However, the fundamentals we've witnessed from the champion will be difficult for the challenger to match throughout a five-round contest.
A high-volume output of punches and kicks has been consistent throughout Volkanovski's career. When paired with endless cardio, the energy-draining techniques of Rodriguez may not survive a 25-round war against the Aussie champ.
UFC 290 Main Event Odds & Prediction
The UFC odds believe Volkanovski walks out of the T-Mobile Arena with another successful defense. However, the juiced moneyline isn't desirable for us bettors.
The good news is we can receive plus-money on Volk winning this bout via decision. A cautious and calm approach to his in-octagon game plans has seen 9 of his 13 UFC past bouts go the distance, and I expect nothing different this weekend.
Rodriguez's cardio is the only concern, but Volk will be hesitant to push for a stoppage win with such a dangerous finisher standing across from him.
UFC Pick: Volkanovski by Decision (+115) [1u returns 1.15u profit] at Bet365
---
UFC 290 Flyweight Championship Bout
Saturday, July 8, 2023 – 11:30 PM ET at the T-Mobile Arena
---
Brandon Moreno (21-6-2), despite winning a trilogy war with one of the greats, Deiveson Figueiredo, remains humble in his success as the flyweight titleholder. But a menacing, unforgiving attitude may be required this weekend when faced with an opponent that's already defeated him twice.
Perhaps the biggest confidence booster sides with Brazilian stand-out Alexandre Pantoja (25-5-0) this weekend. Stood behind a 9-3 UFC record with a 66% finish rate, Pantoja's journey under the Ultimate Fighting Championship banner has involved one submission and one decision win over Moreno from past meetings.
Moreno vs. Pantoja: Fight Tape Analysis
It's been five years since Pantoja last defeated Moreno. And, of course, we've witnessed a significant evolution in the overall skill set of the Mexican flyweight champ. Cerebral in his striking offense, with incredible scrambling ability and ground offense/defense, he's a well-rounded martial artist with a world of positives favoring him.
But likewise, Pantoja hasn't simply been sitting around; both fighters have evolved, but maybe the aggressive nature of this Saturday's challenger is the edge he'll need to dethrone the flyweight king. Pantoja undoubtedly has the killer instinct on his side, and while output and cardio may favor the champion, overall damage, and aggression side with him.
UFC 290 Co-Main Event Odds & Prediction
The UFC prices at the top online sportsbooks have placed Moreno as the betting favorite, and as the champion, it's expected. Although, I don't believe the odds are respecting Pantoja enough.
I believe closely matched bouts such as this shouldn't present so much distance in the betting value. And with a 2-0 lead on Moreno, +165 on Pantoja provides a no-brainer betting situation.
Whether it was the champion or challenger priced at +165, the line is too wide and delivers an automatic bet on the underdog strictly based on the price.
UFC Pick: Alexandre Pantoja ML (+165) [1u returns 1.65u profit] at Caesars Sportsbook
---