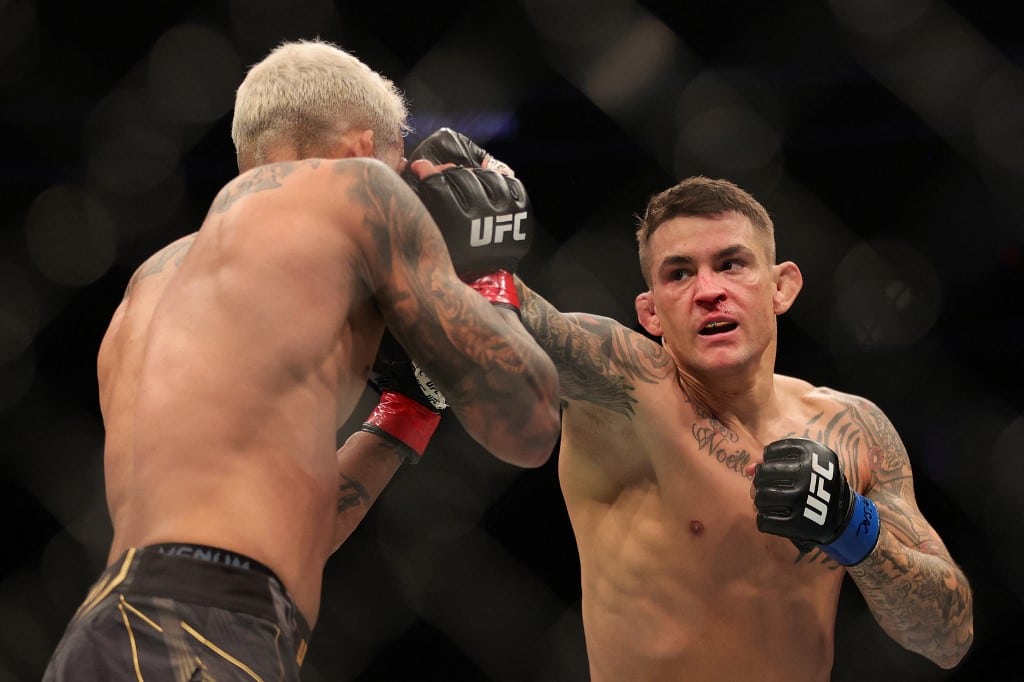 The Ultimate Fighting Championship returns to Salt Lake City, Utah, this Saturday, and we'll witness the crowning of a new "BMF" champion when Dustin Poirier and Justin Gaethje lock horns for a second time during their careers.
Former titleholders Alex Pereira and Jan Blachowicz exchange leather in the co-main event, both of whom are vying for light heavyweight rankings supremacy.
Let's waste no more time and dive into the most noteworthy betting picks for the UFC 291 main and co-main event.
Top UFC 291 Picks
---
UFC 291 Lightweight BMF Championship Bout
Saturday, July 29, 2023 – 11:50 PM EDT at Delta Center
---
He'll go down as one of the greatest UFC lightweight competitors of all time, but after a career filled with barnburner matchups, how much more damage can Dustin Poirier (29-7-0 pro-MMA) endure?
After twelve years and 27 fights, Poirier's UFC career has been the epitome of MMA entertainment. And now, in the absence of Jorge Masvidal, he'll attempt to overcome an opponent he's already defeated but with the "BMF" title on the line.
Aside from the 12-year experience factor of competing in the UFC, the exact paragraph we wrote above can be implemented to explain the career of Justin Gaethje (24-4-0). He's renowned for leaving it all in the octagon, and we know the Fight of the Night award is a foregone conclusion whenever he's scheduled to compete.
Poirier vs. Gaethje: Fight Tape Analysis
Some would say we have the perfect fight tape to analyze because Poirier and Gaethje fought in 2018. A fight in which Poirier walked out with the victory following a fourth-round TKO. However, it's not as black and white as it may sound because both men have endured much punishment since their previous meeting and can equally deliver a fight-ending moment at any time.
I believe the sufficient method to break down this contest is by comparing them skill-for-skill, and in this instance, it's difficult to ignore the diversity of Poirier's game. While Gaethje is predominantly a striker and loves to throw hands, he's often steered clear of grappling situations, an area that unquestionably favors Poirier.
More importantly, Gaethje holds the record for the most significant strikes landed in UFC lightweight history (60.2%). Still, Poirier is one of the fighters who landed more punches in their previous bout – a rare occurrence indeed. This tells us that speed and accuracy could side with Poirier once again, and in a bout involving two incredibly similar styles, we must consider the smallest of advantages.
UFC 291 Main Event Odds & Prediction
The UFC odds boards have Poirier as the rightful favorite, but seeing the opening line deliver a plus-money price was surprising.
Either way, both men will consistently exchange strikes across five rounds, and we've already seen how this plays out. Poirier should have more in the tank once fatigue begins to set in.
UFC Pick: Poirier ML (-150) [1.50u returns 1u profit] at Caesars Sportsbook
---
UFC 291 Light Heavyweight Co-Main Event Bout
Saturday, July 29, 2023 – 11:25 PM EDT at Delta Center
---
Jan Blachowicz (29-9-0) will own a huge MMA experience advantage as he welcomes an opponent with a mere 9 fights to the light heavyweight division this weekend. He's also a former division champion and has fought the who's-who at the weight class.
However, despite the experience disadvantage, Alex Pereira (7-2-0) is a premium kickboxer moving up from the middleweight division, where he previously dethroned Israel Adesanya.
Regarding the grappling discrepancy, Pereira notably trains with Glover Teixeira, one of the best grapplers in the business.
Blachowicz vs. Pereira: Fight Tape Analysis
Blachowicz hasn't utilized a grappling game plan outside his contest with Adesanya. Pereira also has an idealistic partner in Glover, a man that's already overcome Blachowicz.
The former middleweight champ is a natural light heavyweight and is undoubtedly the more talented striker. He thrives in counter-striking situations, and with the power to keep this fight standing or at least return to his feet, it'll be a long night for Blachowicz when exchanging strikes with the Brazilian.
UFC 291 Co-Main Event Odds & Prediction
The UFC prices at OddsTrader's best sportsbooks have placed Blachowicz as the betting favorite, but Pereira has proven time and time again that he should never be underestimated.
The lack of grappling in his arsenal is always a worry, but he continues proving that he only needs a few minutes to unleash a striking onslaught. With 86% of his career wins coming by KO/TKO and Blachowicz being unafraid to exchange leather, we could be looking at another simple knockout victory for the light heavyweight newcomer.
UFC Pick: Pereira ML (+100) [1u returns 1u profit] at Bet365
---