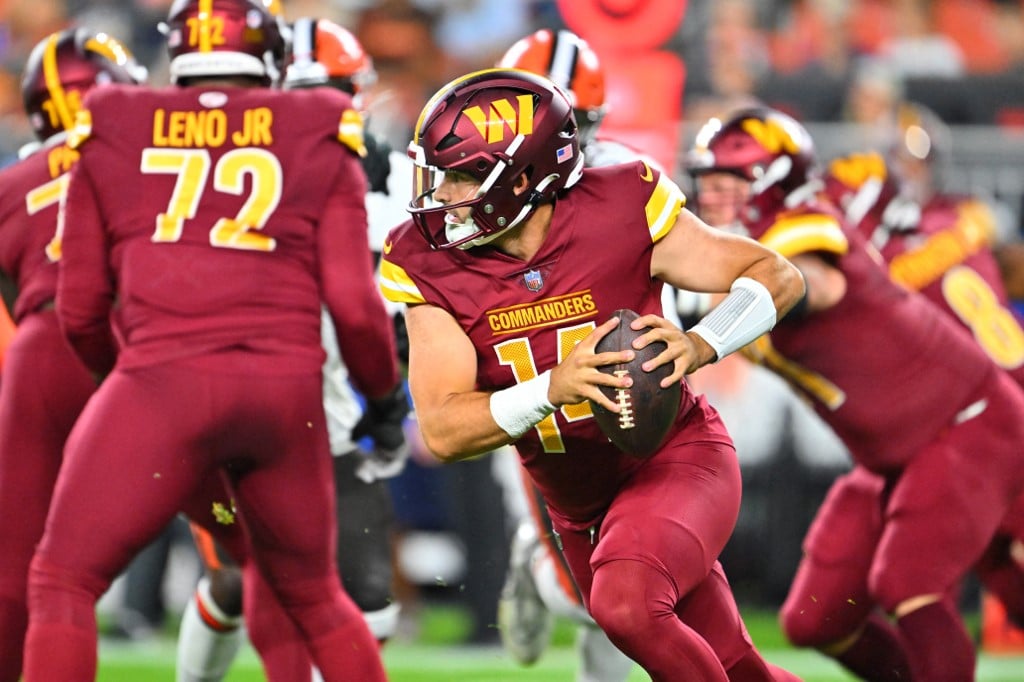 NFL Pick: 2023 Washington Commanders Under 6.5 Wins (-118) at BetRivers
The Washington Commanders finished 8-8-1 in 2022, the first team in the 17-game era to finish with a .500 winning percentage, but this mediocrity was not enough to qualify for the playoffs in a division where the other teams all made the tournament.
Expectations are not particularly high again for Washington. Top-rated sportsbooks only give the Commanders an over/under of 6.5 wins, the fewest in the stacked NFC East.
This team could use a big season to help secure Ron Rivera's job after a shaky tenure that has seen him flirt with 7-to-8 wins while only having a 22-28-1 record including 0-1 in the playoffs.
A quarterback has been a revolving door for Rivera's tenure, and that is the case again as the team prepares to start Sam Howell, a curious decision for a Week 1 starter, but the Commanders are hoping a new offensive design will lead to more success this year.
---
Significant Changes
We will see what Sam Howell can do, but maybe the e more interesting aspect here is the hiring of offensive coordinator Eric Bieniemy from Kansas City. As for the defense, the draft provides yet another 1st-round pick starter but this time it is for the secondary.
When Eric Met Sammy
One of 2023's biggest experiments in the NFL is giving Eric Bieniemy control over an offense that will be led by 2022 5th-round pick Sam Howell at quarterback. While the team acquired Jacoby Brissett, a capable backup who played his best ball in Cleveland last year, it is going to be Howell in Week 1.
This is practically unheard of to give a late-round pick a starting job going into Week 1 with such little experience in the NFL. Since 1994, only 6 quarterbacks drafted in the 5th round or later have gone on to start at least 10 games in their rookie or sophomore season.
The only one of those quarterbacks to start in Week 1 was Trevor Siemian, a 7th-round pick by the Broncos in 2015. They won the Super Bowl, Peyton Manning retired, and Siemian ended up being a stop-gap solution in Denver. The team did finish 9-7 in 2016 (8-6 with Siemian), but that was the remaining pieces to a defending champion, not a mediocre Washington team.
But the hope is Bieniemy will make this work. Denied a head coaching job again, he took this job in Washington as a way to get away from Andy Reid and Patrick Mahomes to prove he is capable of calling plays and getting results.
That is the issue here. Bieniemy was not the play-caller in Kansas City, and Mahomes and Travis Kelce are as talented as anyone to ever play their positions. Reid obviously has a lot of input in the offense too. This is Bieniemy's show in Washington, and while he has talent like No. 1 receiver Terry McLaurin, he also has to contend with often-injured tight end Logan Thomas.
The offensive line may also not be a strength, though he did enlist right tackle Andrew Wylie from Kansas City. He should be ahead of the curve on offense after starting 59 games for the Chiefs. As for Howell, he did lead all quarterbacks in passing yards in the 2022 preseason as a rookie without Bieniemy, but he also had just 1 touchdown pass on 69 attempts, which is not a nice percentage.
If Bieniemy can make Howell look even one-quarter as good as Mahomes, he should get a head coaching job immediately in 2024. But this is one of the season's greatest gambles.
Another 1st-Round Defender
Forget the pressure on Rivera and Bieniemy for a moment. Defensive coordinator Jack Del Rio could stand to get more out of his lineup that infamously has 5 1st-round picks in the front 7, including Chase Young, Montez Sweat, Daron Payne, Jonathan Allen, and Jamin Davis.
Now you can add another 1st-round pick to the defense, but this time it is in the secondary. The team drafted Emmanuel Forbes out of Mississippi State where he returned 6 of his 14 interceptions for touchdowns. He will have to bulk up as he has a slender frame, so he could be targeted by rushing attacks.
The Commanders also drafted corner Jartavius Martin in the 2nd round, and he should see a fair amount of playing time this year.
Washington's defense is unique in that all but one projected starter is a home-grown talent the team has acquired in the draft. The only newcomer from another team is linebacker Cody Barton, who played 4 years in Seattle with 16 starts (11 in 2022) for Pete Carroll.
---
2023 Schedule Analysis and Pick
Outside of a miserable 3-13 season in 2019, the Washington franchise has won 7-to-9 games in every other season since 2015. This is strong consistency at being mediocre. The team has not won a playoff game since 2005, and the franchise is the only one in the NFL to not have a season with more than 10 wins since 1991.
Siding with under 6.5 wins would be projecting one of the worst Washington seasons in recent years, but it comes down to the schedule and how much you trust the coaching staff and Howell.
As an analyst, I do not put much trust in the quarterback and coaching staff to be successful. The schedule is also problematic with the Cowboys (Nov. 23) and Eagles (Oct. 1) usually getting the best of this team, and even sweeping the Giants (Oct. 22) is unlikely.
The Commanders also play the AFC East, which could be so loaded a team coached by Bill Belichick may finish last. They also will play on the road against Denver (Sept. 17), Atlanta (Oct. 15), and Seattle (Nov. 12) – three teams that could be improved from last year. The Commanders also have to finish with the Jets (Dec. 24), 49ers (Dec. 31), and Cowboys (Jan. 7), so the motivation may not be there if the playoffs are out of the picture already.
There are still other winnable games of course against the Cardinals (Sept. 10), Bears (Oct. 5), and Rams (Dec. 17). Give them a split with the Giants and maybe an upset of the Cowboys or Eagles (Oct. 29) again, and that could get nearly 6 wins.
But on paper, most of the teams on this schedule should be better than Washington this year. The quarterback play should be better. We will see what Howell can do, but the best bet for your NFL picks is to take under 6.5 wins at the NFL odds board.
NFL Pick: 2023 Washington Commanders Under 6.5 Wins (-118) at BetRivers
---
2022 Recap: Giant Letdown
Washington was the latest team to fall for the scam that is Carson Wentz. He started the season at quarterback and things did not go well as most could have told the team before acquiring him. Wentz managed to take 3 sacks in the first 5 minutes of a game against Philadelphia, his former team.
The Commanders were fading fast with a 1-4 record, but they did hang on for a 12-7 win over Chicago in a game where Wentz injured his finger. This led to Taylor Henicke starting games, and the team responded well to that. Heinicke was not playing great, but he was making 3rd-down conversions and making fewer negative plays than Wentz.
The best moment of the season, and possibly Rivera's Washington tenure, came in Week 10 in Philadelphia. The rival Eagles were 8-0 and a big favorite, but Heinicke was on fire on 3rd downs that night, and the Commanders forced 4 takeaways on defense in a 32-21 upset win.
At 7-5 with Heinicke still starting, things were looking solid for the playoffs. However, it was the series with the Giants that ultimately doomed this team from qualifying for the playoffs. The first matchup saw Washington force overtime, but neither team could do much in the extra session and the game ended in a 20-20 tie.
Navigating Leadership on a Struggling Team
Washington had a real scheduling quirk with a bye week before getting to play the Giants again in a rematch at home. This time, Heinicke was unable to tie the game late in the red zone and the team lost 20-12. Things were that close to going back to overtime in a 20-20 game.
But the Giants ultimately finished 9-7-1 and made the playoffs while the Commanders would finish at 8-8-1. Rivera made a poor decision to go back to Wentz after Heinicke threw some interceptions against the 49ers, the No. 1 defense last year. Sure enough, Wentz threw even more back-breaking interceptions in a 24-10 loss to Cleveland in Week 17, and the Commanders were eliminated from playoff contention.
In Week 18, the team gave rookie Sam Howell a start for the heck of it. The team was playing Dallas, which was chugging along well. However, the Commanders totally stifled Dallas on offense and won the game 26-6. Howell was not spectacular, but he managed the game against an elite defense and showed some mobility.
Would Howell be the starter this year if he didn't get that opportunity in Week 18? It is hard to say when it comes to Rivera and his quarterback decisions, but Wentz was definitely a bad gamble for 2022.
---