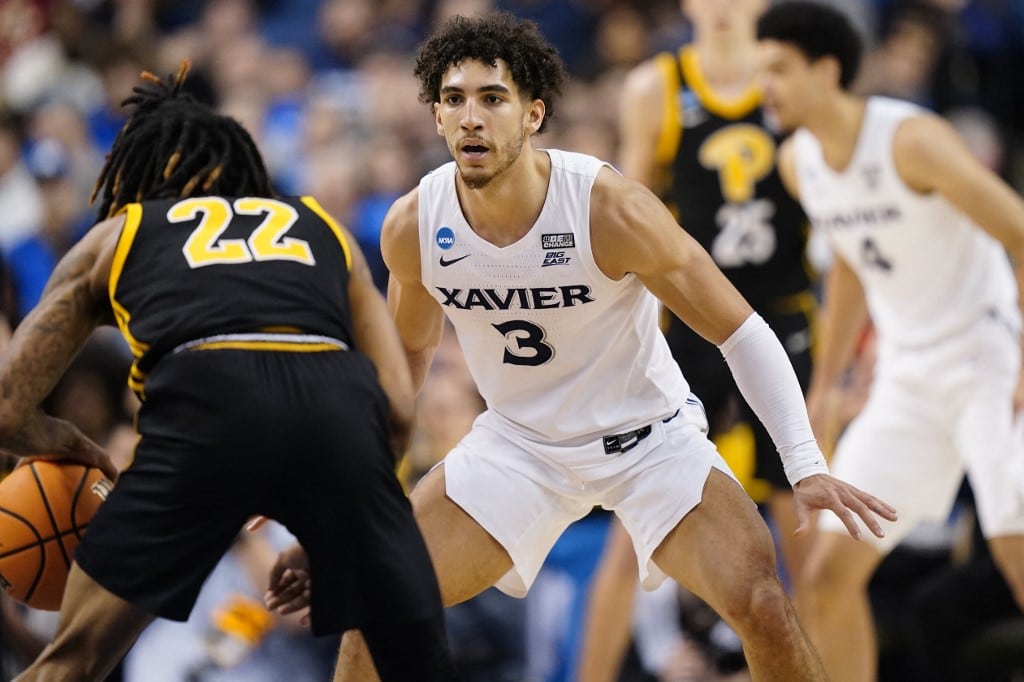 ---
It's another golden opportunity for Under bettors on the March Madness odds board when Xavier and Texas meet this Friday.
NCAAB Pick: Under 148.5 (-108) at BetRivers
---
Friday, March 24, 2023 – 09:45 PM EDT at T-Mobile Center
---
The Under isn't always the right choice for your college basketball picks – it just seems that way once March Madness rolls around. The games are more important, and the talent level is higher, so people naturally play harder on defense than they do during the regular season.
Then you have the betting public, which comes out in droves at this time of year to make their March Madness picks. These casual fans are more likely to bet the favorites and the Over, and the deeper we get at the Big Dance, the more their action will impact the NCAA college basketball odds.
Take Friday's Sweet Sixteen matchup between the No. 3 Xavier Musketeers and No. 2 Texas Longhorns, for example. Xavier appears to have some value here as 4-point underdogs at Caesars Sportsbook, although not enough to recommend a larger bet; that should be reserved for Under 148.5 at BetRivers, who have a generous -108 vig attached to this line.
How Good Is Xavier?
Very good – one of the best teams in the Big East, which ranks fourth among all Division I conferences according to the Simple Rating System at Sports Reference. The Musketeers (27-9 SU, 19-16-1 ATS) finished second to Marquette in the regular season standings, then lost to the Golden Eagles in the Big East title game.
Xavier might be slightly over-rated as a 3-seed, though. Ken Pomeroy has them ranked No. 15 overall (No. 7 offense, No. 63 defense) according to his efficiency-based stats; that's fourth among Big East teams, and third behind No. 4 UConn and No. 12 Creighton among the Sweet Sixteen survivors.
The Musketeers are also one of the fastest teams in Division I at 70.6 possessions per game (No. 33), something that head coach Sean Miller stressed this past offseason heading into his second stint at Xavier. This is one of the big reasons the Musketeers had the Over at 20-10-1 during the regular season, but now that the games are getting tougher, the Under has been 3-2 since the start of Champ Week.
How Good Is Texas?
They're the best team in the Big 12, and the Big 12 was the best conference in Division I this year.
Overall, the Longhorns check in at No. 5 (No. 15 offense, No. 10 defense) on the Pomeroy charts, but they've had the toughest schedule of every remaining Sweet Sixteen team save for Michigan State.
Remarkably, the 'Horns (28-8 SU, 18-17-1 ATS) were able to win the Big 12 title despite firing head coach Chris Beard eight games into the season. Rodney Terry has been their interim coach since December 12; they're 21-7 SU and 14-12-1 ATS on Terry's watch, including 5-0 SU and 4-0-1 ATS during the postseason.
As far as pace is concerned, Texas manage to fit in 68.9 possessions per game (No. 100), so neither team in Friday's contest is perfectly tailored to go Under the posted total. But again, the Longhorns have the Under at a perfect 5-0 since driving the Over to a 16-13-2 record during the regular season. This is serious business now.
Should I Bet the Spread?
Once upon a time, Xavier was a classic March Madness value pick, especially during Miller's initial reign between 2004-2009 when they went 6-4 SU and 8-1-1 ATS at the Big Dance.
The Musketeers retained that betting value when Miller left for Arizona and Chris Mack took over, but between the move from the A-10 to the Big East in 2013, and the hiring of Travis Steele as head coach in 2018, the betting value has dried up with this program.
Things are definitely trending in the right direction now that Miller's back in Cincinnati. At plus-16.13 SRS, this year's Musketeers are already better than any team that Steele put on the court and comparable to those that Miller and Mack assembled before that.
Weak Defense
Xavier's weaknesses on defense can't be overlooked, though. Miller intentionally focuses on offense rather than defense, and he's not interested in patching up the latter by using any zone schemes that would ultimately hamper the development of his players. It's one of the secrets behind his recruiting success.
Allegedly paying guys like Deandre Ayton $10,000 a month is another. That's what got Miller fired at Arizona, and it's why he's available now for Xavier. Ultimately, there's enough to like about the Musketeers for a very small bet, but the Under will have more legs in this contest thanks to that hard-nosed Texas defense. Bet accordingly.
NCAAB Pick: Under 148.5 (-108) at BetRivers
---