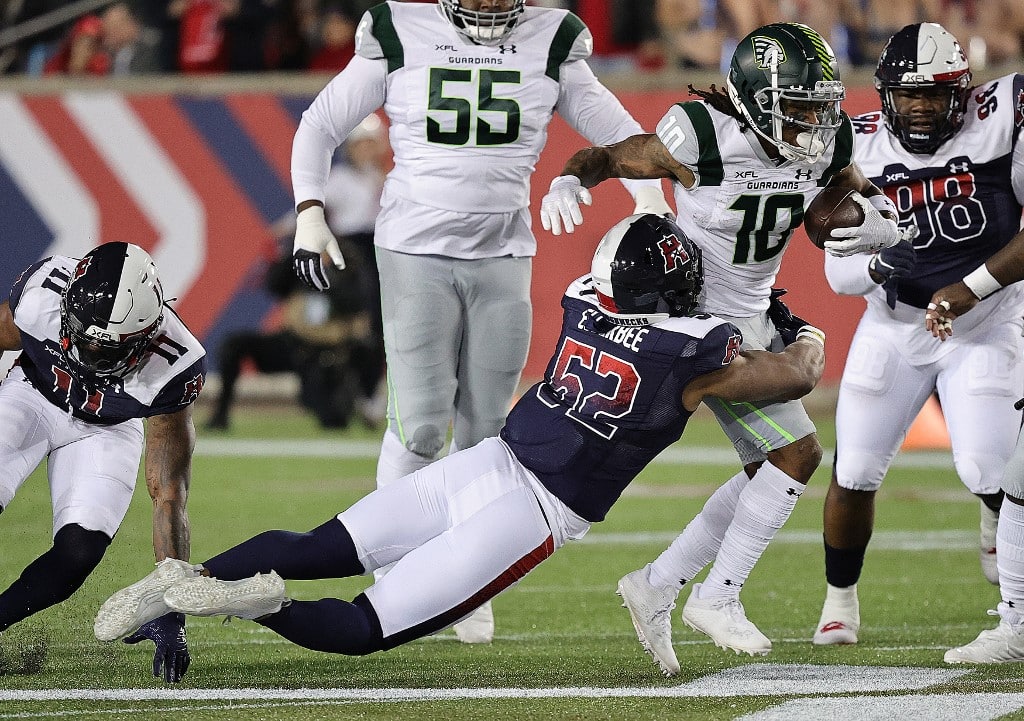 Week 4 in the XFL starts and ends with games where a 3-0 team faces an 0-3 team in a rematch, so we could see big separation for the Houston Roughnecks and DC Defenders if they can get to 4-0 starts.
In between are two matchups with teams of equal records, though the spreads and totals are getting higher in these games as we get to learn more about the eight teams.
We have our top picks for each game, so let's find the best betting odds at our top sportsbooks.
Pick Summary
Roughnecks -8.5 (-110)
Sea Dragons -4.5 (-110)
Battlehawks -3.5 (-115)
Vipers vs. Defenders Over 42 (-110)
---
Saturday, March 11, 2023 – 07:00 PM EST at Camping World Stadium
---
---
In the first game this Saturday, the Houston Roughnecks (3-0) can stay undefeated by keeping the Orlando Guardians (0-3) winless. Houston is an 8.5-point road favorite with a total of 37.5 points.
On the bright side, Orlando did not get blown out last week, losing 10-9 to the Renegades in a defensive slugfest. Meanwhile, the Roughnecks were shutout in the second half but still held on for a 22-13 win over the Brahmas.
This gives some hope for Orlando to keep it closer this week, but this is the first rematch of the XFL season as these teams met in Week 1, when Houston's defense terrorized the Guardians with sacks and interceptions in a 33-12 win.
A Mismatched Game
The passing disparity is significant: Houston ranks No. 2 with 6.5 yards per pass attempt and Orlando is No. 7 with 4.9 yards per pass attempt.
While Orlando quarterback Paxton Lynch did not throw any interceptions in Week 3, he still took 4 sacks and only led the offense to 9 points. He was also the team's leading rusher with 43 of the 80 yards (and a touchdown), so the run game has not been going well for Orlando either.
Houston quarterback Brandon Silvers had 3 touchdown passes in the first half last week and a pair in Week 1 against Orlando. Silvers is tied for the league lead with 7 touchdown passes so far.
Houston should not win as easily as it did in Week 1, but this still is a matchup it should cover as Orlando's offense is not threatening enough through Week 3.
XFL Pick: Roughnecks -8.5 (-110) at BetMGM
---
Saturday, March 11, 2023 – 10:00 PM EST at Lumen Field
---
---
The San Antonio Brahmas meet the Seattle Sea Dragons in a battle of 1-2 teams. Seattle is a 4.5-point favorite with a total of 40.5 points.
After blowing two fourth-quarter leads to start the season, the Sea Dragons finally got the job done late in the game and came back to beat the Vipers 30-26. Meanwhile, the Brahmas pitched a second-half shutout of Houston but still lost 22-13 as the offense could not finish drives against an impressive defense.
Seattle's Top Players
The Sea Dragons continue to throw the ball more than any team in the league, and Ben DiNucci leads the XFL with 7.1 yards per pass attempt. Seattle also has the XFL's leading rusher in Morgan Ellison (170 yards) and the top two leading receivers in Jahcour Pearson (272 yards) and Josh Gordon (225 yards).
Both teams have rushed for 297 yards to tie for the No. 2 position in the league, but the Sea Dragons have got there on 29 fewer carries. With more balance on offense and playing at home this week, let's go with the better offensive team and for Seattle to cover.
XFL Pick: Sea Dragons -4.5 (-110) at Bet365
---
Sunday, March 12, 2023 – 04:00 PM EST at The Dome at America's Center
---
---
The St. Louis Battlehawks (2-1) are a 3.5-point home favorite with a total of 36.5 points.
We kind of called it last week that St. Louis' fourth-quarter magic would run out and the offensive line issues would creep up against a solid DC Defenders team. Sure enough, St. Louis was outrushed by 80 yards, and the latest attempt at a wild comeback was thwarted when AJ McCarron was sacked on a fourth-and-15 onside attempt in the final minute in a 34-28 loss. McCarron was sacked 4 other times too.
But while Arlington won last week to also improve to 2-1, it is hard to be impressed with a 10-9 win over lowly Orlando. For a change, a defense was unable to intercept Paxton Lynch and chase him to the bench. The Renegades hung on for the win in one of the lowest-scoring games this season.
The Renegades are now averaging a league-low 4.7 yards per pass and a league-low 2.5 yards per rush. They are the only offense without a rushing touchdown.
Can the Battlehawks Get Back on Track?
This is a great opportunity for St. Louis to bounce back at home behind McCarron's experience and against an abysmal offense from Arlington.
Take the Battlehawks to move to 3-1 with a convincing win for a change.
XFL Pick: Battlehawks -3.5 (-115) at BetMGM
---
Sunday, March 12, 2023 – 07:00 PM EST at Audi Field
---
---
To close Week 4 this Sunday night, the DC Defenders will try to go to 4-0 and drop the Vegas Vipers to 0-4. DC is a 6-point home favorite with a total of 42 points for the highest total this week.
While Vegas is winless, the two games it played in solid field conditions have had 42 points and 56 points while being decided by a total of 6 points. The team has been competitive, and Vegas ranks No. 3 in first downs per pass attempt (29.9%), right behind No. 2 DC (30.4%).
But the Defenders are last in pass attempts and first in rush attempts, so this has been a fairly one-dimensional offense. It works for the team, but the 3-0 start does not feel as solid as the one Houston has, for example.
Should You Play the Spread?
The Vipers have a chance to steal this one, but we think the over has the best value for your XFL picks after Vegas just played a game where both teams scored in all four quarters.
The Defenders also played in the week's highest-scoring game in a 34-28 outcome. We just need over 42 points for this one to hit.
XFL Pick: Over 42 (-110) at Bet365
---