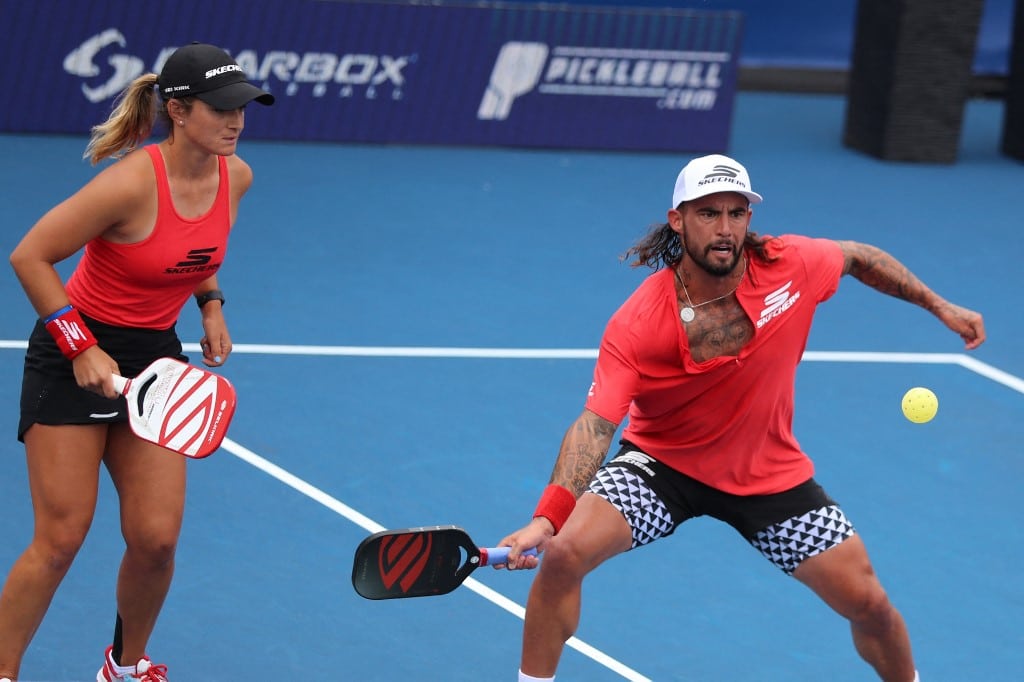 Pickleball, one of the newest sports sweeping the nation, has attracted the attention of one of the largest and top sportsbooks in America, FanDuel, and will soon be available on its betting menu in several states.
Pro Pickleball on the Menu
If you are a fan of pickleball and you like to back your opinions with cold, hard, cash then this story will be of interest. The Pro Pickleball Association (PPA) announced last week that FanDuel Sportsbook would be putting the PPA events on its sports betting slate of wagering options.
FanDuel customers in Colorado, Connecticut, Illinois, Louisiana, Maryland, Michigan, Oregon, Tennessee, Washington, and Wyoming, as well, as the Canadian province of Ontario will be able to make a bet on PPA pickleball tournaments immediately.
PPA Tour Founder and CEO Connor Pardoe said, "This is a monumental moment for the PPA Tour and the game of pickleball as a whole," PPA Tour Founder and CEO Connor Pardoe said. "We are excited to be paving the way in the pickleball sports betting space, and we couldn't be prouder to lead the sport's leap into such an innovative industry.
"The immense growth of pickleball over the past few years has driven widespread interest in all aspects of the game, including playing as amateurs and watching the professionals in person at events and from home. Our venture into sports betting will bring a whole new level of engagement from current and new fans, and we continue to be excited for what the future holds for our sport."
A FanDuel spokesperson also commented by saying, "As pickleball has taken the nation by storm, we're excited to partner with the PPA to be the first sportsbook for fans to bet on the sport. In the past, we've seen a lot of excitement for racquet sports and believe there is a lot of potential for fans to engage with the markets we've created for PPA Tour competitions."
From Modest Roots
Pickleball traces its origins back to the summer of 1965 in a Bainbridge Island, Washington backyard. It was there that the game was created due to a shortage of badminton rackets and little else to do on a lazy weekend afternoon that ultimately took shape as a cross between ping-pong, badminton, and tennis.
But few had ever heard of the emerging sport until just a few years ago when it rebranded itself as USA Pickleball and sought to be more in step with other governing sports bodies. The playing surface takes up much less space than a traditional tennis court and it soon became an ideal recreational outlet for those who didn't have the legs or the stamina for tennis but found it a good resource for exercise.
And now the sport not only has professional teams but competing tours with the Professional Pickleball Association (PPA) and the Association of Pickleball Professionals (APP). We have seen celebrities like Tom Brady and Drake buy into pro pickleball franchises which has undeniably raised the profile of the entire sport.
Some of the athletes are making hundreds of thousands of dollars in winnings and appearance fees. The highest-grossing pickleball player won $125,000 in prize money in the first three events of the 2023 season. Appearance fees are also becoming more commonplace and we can expect those sums to grow as the sport develops bigger media deals, leading to more exposure and greater popularity.
Josh Freedman, director of pickleball at Topnotch Management, an agency representing professional pickleball, tennis, and soccer players, said, "Like anything else if you're talented and you work hard, not just at your craft on the pickleball court but also off it, you can make a really nice living."
---