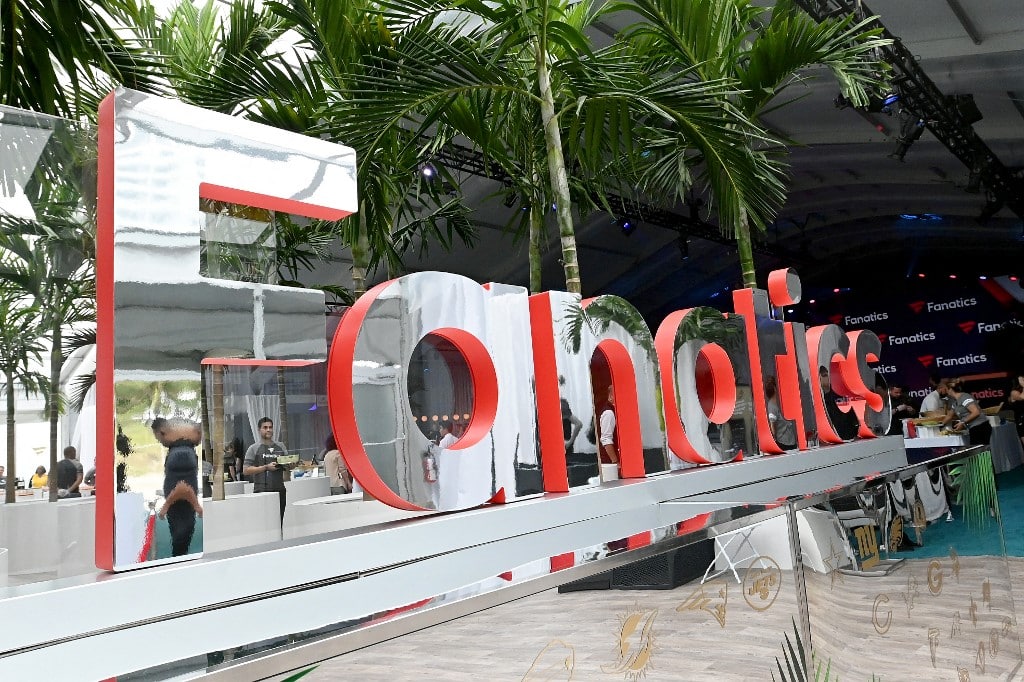 In an interesting late bid acquisition, Fanatics struck a deal with Aussie bookmaker PointsBet to acquire the company's struggling U.S. brand and make it its own. That metamorphosis is taking shape as Fanatics seizes control of the PointsBet brand in eight states and counting.
The Rebrand
Awaiting regulatory approval in several states, the brand shift from PointsBet to Fanatics will be bridged by something called "PointsBet, a Fanatics Experience," before it gets the green light to brand totally as Fanatics.
And that is precisely what is happening in the following eight states: Colorado, Iowa, Kansas, Maryland, New Jersey, Pennsylvania, Virginia, and West Virginia. In those states, PointsBet customers will be welcomed by a subtle brand shift that says, "PointsBet, a Fanatics Experience."
Of those eight states, Fanatics only operates in Maryland which means both PointsBet and Fanatics will be competing against each other throughout the 2023 NFL season before the two are fully merged for next season.
Fanatics Expanding
In addition to operating the PointsBet brand under the temporary moniker of "PointsBet, a Fanatics Experience" in those eight states previously mentioned, Fanatics will continue to operate under its own banner in Maryland, Massachusetts, Ohio, and Tennessee. Fanatics Sportsbook is also licensed in Kentucky and is scheduled to launch on September 28th.
Matt King, CEO of Fanatics Betting and Gaming, said in a press release, "We are excited about what we are building at Fanatics Betting and Gaming and this acquisition accelerates our plans. We have a ten-year plan that focuses on the customer and not market share. We are going to acquire customers efficiently, allowing us to return savings to customers by investing in the customer experience at Fanatics Sportsbook and PointsBet, a Fanatics Experience."
Expanding Horizons
In addition to access to PointsBet's U.S. markets, the $225 million deal also included the integration of its proprietary gambling algorithms and software through a Dublin-based gaming company called Banach that PointsBet purchased for $43 million in March 2021.
Fanatics is working on regulatory approval in Louisiana, Michigan, New York, and Ohio for control of the PointsBet brand in those states. But before that happens, PointsBet customers in Indiana and Illinois will see their accounts rebranded to "PointsBet, A Fanatics Experience" over the next few months.
Fanatics' Ambitious Expansion
Fanatics could expand to as many as 15 states by the end of 2023 which is where company founder, Michael Rubin, believed his company would be entering this football season.
"I think in the betting business, we're going to start launching [in] multiple states in January (2023)," said Rubin, who was speaking at the CAA World Congress of Sports in 2022.
"We'll be in every major state other than New York, where you can't make money, by next football season."
Navigating New York's High-Stakes Sports Betting Market
Rubin was referring to the onerous 51 percent tax rate imposed on all online sportsbooks operating in the Empire State. However, PointsBet does have a presence in New York which means Fanatics will ultimately be entering the expensive fray with several other ferocious competitors.
But as aggressive as Fanatics has been about its approach to the sports betting business, Rubin understands there is much to be said about a long-term approach.
"Things don't happen overnight," continued Rubin. "So, I think in five years that will be where we'll be. And I think we'll do it on a very calculated basis.
"We're not in a rush to do everything at once, because if you do that you screw it up."
---