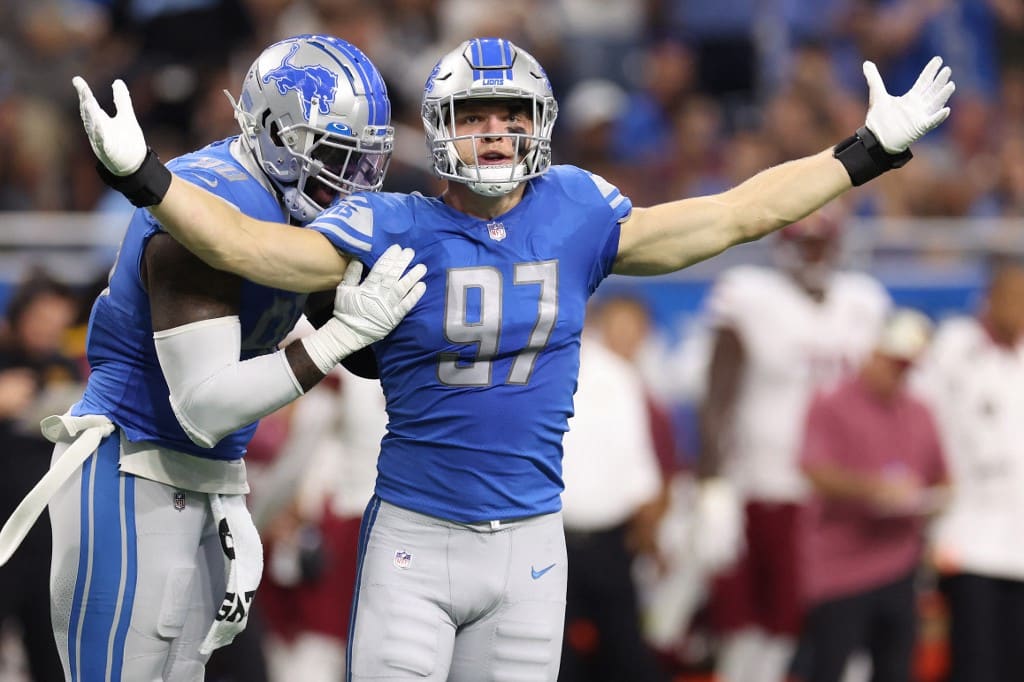 NFL Pick: 2023 NFC North Winner – Detroit Lions (+135) at BetRivers
---
You know the state of the NFC North is in flux when the Detroit Lions are favored to win the division. The Lions have not been outright favorites at top online sportsbooks to win their division in the preseason since 1982.
Meanwhile, the Vikings are coming off a 13-4 season and still have the most reliable quarterback in the division in Kirk Cousins. The Bears have some buzz with Justin Fields reportedly getting more MVP bets than anyone. The Packers have moved on from Aaron Rodgers, but head coach Matt LaFleur has the best track record in the division.
The Landscape
Here are the current odds from BetRivers for the winner of the NFC North in the 2023-24 NFL season:
Detroit Lions (+135)
Minnesota Vikings (+275)
Green Bay Packers (+400)
Chicago Bears (+400)
This is a division where anything can happen this season. Nothing should be off the table for your NFC North bets.
We have our best bet to win the NFC North below.
---
Detroit Lions: Rare Role of Favorite
Since Dan Campbell took over as head coach in 2021, the Lions have been the best spread bet in the NFL with a 23-11 ATS record (67.7%). But in Year 3, it is time to start seeing Campbell turn close losses into wins.
The Lions have started 0-8 and 1-6 in his seasons, making them close to an afterthought by the time the season gets to Thanksgiving in Detroit. This team needs to start strong, and that is already being threatened by having to open the season in Kansas City on a night when the Chiefs will be dropping their latest championship banner.
The schedule is going to ease up from there, but the games that really cost the Lions a playoff spot last year were the losses to Seattle and Carolina. The Lions get both teams in Detroit early in the season (Week 2 and Week 5 respectively) and must find a way to win those games after making Geno Smith and Sam Darnold look like All-Pros last year. The run defense also allowed a pair of 125-yard rushers in Carolina in a late-season loss that put a major dent in Detroit's playoff hopes after things were looking up.
Strong Core
But the Lions did not go out of their way to vastly improve on their team for 2023. Campbell is keeping his top coordinators, and Jared Goff is still his quarterback. Goff had his best season since 2018, but he needs to be more consistent in road games and the games played outdoors. In 2022, Goff threw 23 touchdowns at home and 6 touchdowns in road games – the largest home-road disparity in the salary cap era for any quarterback to throw 25 touchdowns in a season.
However, the Lions did not make big splashes in free agency or the draft. Instead, they made some lateral movements at linebacker and running back. They brought back Marvin Jones at wide receiver, which could help with Jameson Williams serving a 6-game suspension for gambling violations.
The Lions were criticized for spending high draft picks on a running back and off-ball linebacker. They also made a questionable move at tight end that will likely not be better than having T.J Hockenson, who they traded to Minnesota last year.
Path to Victory
The best way for the Lions to improve in 2023 may be for Aidan Hutchinson to have a Defensive Player of the Year type of 2nd season after he impressed as a rookie. The defense spent most of the year ranked dead last, so that is where the Lions have the most room for improvement.
The offense can at least rely on the consistency of No. 1 wideout Amon-Ra St. Brown, a breakout star in 2022. But the best thing the Lions have going for them is that the Bears, Vikings, and Packers are just not reliable right now.
This could be Detroit's time, but another 9-8 finish that may or may not qualify for the postseason pending tie-breakers feels much more likely than any jump to 11 or 12 wins.
---
Minnesota Vikings: Regression Favorites?
Every analyst writing about the Vikings should be pointing out how they managed to win 13 games despite allowing more points than they scored last year. No other team in NFL history had won more than 11 games when doing that. Also, the last 9 teams to make the playoffs with a negative scoring differential all failed to make the playoffs the next year.
As we know with Kirk Cousins, he is Mr. .500 as his teams rarely stray a game from 8 wins, so going 13-4 was a shocker. They did it thanks to tying the NFL record with 8 fourth-quarter comebacks in a season, including a 33-point comeback win against the Colts (coached by Jeff Saturday, mind you).
The Vikings were 11-0 in close games last regular season, a mystifying record that tells you they were blown out in their 4 losses. Cousins almost had as many comeback wins (8) in 2022 as he had in his pre-2022 career (12), and he was only 12-36-2 (.260) at comeback opportunities before 2022.
Stranger Things
The other oddity about these Vikings is that 2022 was statistically the worst season of Cousins' career. Justin Jefferson was fantastic in leading the league in receiving yards, playing the Cooper Kupp role in coach Kevin O'Connell's offense. However, the greatness of Kupp in 2021 was his consistency as he put up 90-plus yards almost every single week. Jefferson had 7 games where he was held under 50 yards, including the final 3 games of the year.
The Vikings have a new No. 2 wide receiver as Adam Thielen has been replaced by rookie Jordan Addison. It could pay off greatly for the future, but it may not make the offense better in 2023 as wide receivers rarely blow up right away in this league. Thielen was a high catch rate target and reliable receiver too.
The Vikings let several Pro Bowl veterans go, including Patrick Peterson, Za'Darius Smith, Eric Kendricks, and Dalvin Cook. The replacements here are not nearly as high potential as Addison replacing Thielen. Alexander Mattison could be a decent back at a highly replaceable position, but he has done almost nothing in the NFL when he is not playing Detroit or Seattle.
Getting Help
The defense also still looks like a mess, but at least the team hired Brian Flores to coordinate things. The issue there is he likes a Bill Belichick style of defense where you can give up yards, but you keep points down by clamping down on third down, red zone, and creating turnovers.
Flores may quickly find out that bend-but-don't-break tends to break a lot when you lack talent. But the Vikings have a reliably accurate passer in an NFC that has almost none of those, so Cousins should have the Vikings in contention going into those final 3 games against the Lions (twice) and Packers (Week 17).
---
Green Bay Packers: The Love Era Begins
The unknown can be terrifying, and it can also be exciting. The Packers have been spoiled since 1992 for having Brett Favre and Aaron Rodgers, but it is Jordan Love's turn now after Rodgers was traded to the Jets.
Love has limited tape, but there have been some good moments that coach Matt LaFleur can work with. This is when coaching can be fun as any big season from Love and LaFleur will be the one getting a lot of credit for that, because the odds are against him breaking out as a low-tier prospect in 2020 that shocked fans when he was drafted.
Still, LaFleur is working with a lot of young skill players in this offense as only the running backs, Aaron Jones and A.J. Dillon, have much experience in the NFL. A huge problem last year for Green Bay was not having a legitimate No. 1 receiver after the team traded Davante Adams to Las Vegas.
Newcomers
Even when someone like Christian Watson or Romeo Doubs would shine, injury seemed to be just around the corner. This is why it is scary to have Watson and Doubs as the starters this year, but if they can stay healthy, there is potential there. Watson scored 8 touchdowns in a month last year, showing big-play ability the Packers have not seen from a young receiver in a long time. One of his long scores was thrown by Love against the Eagles too.
But the Packers are also working in young tight ends after losing Robert Tonyan to the rival Bears. However, this is a home-grown core – all 11 projected starters were drafted by the Packers – that is expected to learn and grow together under a coach who was won over 70% of his games.
Even last year, Aaron Rodgers had his worst season, but the Packers were still a drive away from a playoff game. The offense moved the ball well despite not having a consistent leading receiver. If Love to Watson is the real deal, you could see the Packers stealing a division here, but it will not be easy.
---
Chicago Bears: Hype or Hoax?
Blame Josh Allen in Buffalo for making every fanbase hold out hope that their quarterback is going to break out in Year 3 after a pair of underwhelming seasons. It usually does not work that way, but as Allen proved in 2020, it is not impossible.
However, adding D.J. Moore is not like adding Stefon Diggs, and the Bears were dead last on defense last season. This team has a long way to go after finishing 3-14 with a terrible passing offense and an inability to win the close games a team like the Vikings excelled at last year.
Dead Last
The 2022 Bears join the 1970 Patriots, 1985 Falcons, and 2005 Texans as the only 4 teams since the 1970 merger to finish dead last in points allowed on defense and last in net yards per pass attempt on offense. None of those teams won more than 7 games the following season.
One offseason would make it hard for the Bears to make a huge leap on both sides of the ball, especially with no change at quarterback or the main coaching positions. A lot of the moves the team made are marginal improvements or lateral movements at best.
For example, not having Roquan Smith (traded to Baltimore last year) and replacing him with Tremaine Edmunds from Buffalo is a lateral movement. Drafting rookie right tackle Darnell Wright is a move for the future, but it may only be a marginal upgrade in 2023 as there are metrics that suggest blocking was not the main issue for Chicago last season.
It's A Passing League
Justin Fields must work to improve as a passer. In his last outing against a poor Detroit defense, Fields produced 30 net passing yards on 28 passing plays, but the only highlight you'll see from that game is his 60-yard run. The Bears lost 41-10, because you have to be able to pass to succeed in today's NFL.
Moore is going to help as the new No. 1 wide receiver, but he is not a difference-maker like Diggs in Buffalo, A.J. Brown in Philadelphia, Ja'Marr Chase in Cincinnati, or Tyreek Hill in Miami.
Do not buy the MVP hype for Fields.
---
Conclusion: And the Division Winner Is…
This is an exciting division race because the Vikings and Lions should still be the two best teams, but it is hard to believe they did enough to dramatically improve their rosters for 2023. The winner of this division may very well finish 9-8 or 10-7.
The Packers may have the best coach but the biggest unknown at quarterback in Love. But that does give them some mystery and potential for good value.
The Bears have the intrigue of Justin Fields breaking out as a passer, but that still feels unlikely at this point. They may also have the worst coach in the division.
The Bears and Packers could both improve on last year, but they should still be another year or two away from really competing. Nonetheless, the Packers may be worth a hedge at +400 just because of the Love breakout potential.
The Pick
With the Lions and Vikings, it really could come down to those meetings at the end of the season to decide this division title. The Lions get home-field advantage in Week 18 too, and that can be enough of a difference maker as the game would likely flex into prime time, or Cousins' worst nightmare.
It is so hard to trust the Lions to do something great, but until we see more from Love and Fields, this is Detroit's opportunity to finish on top for a change in your NFL best bets.
NFL Pick: 2023 NFC North Winner – Detroit Lions (+135) at BetRivers
---