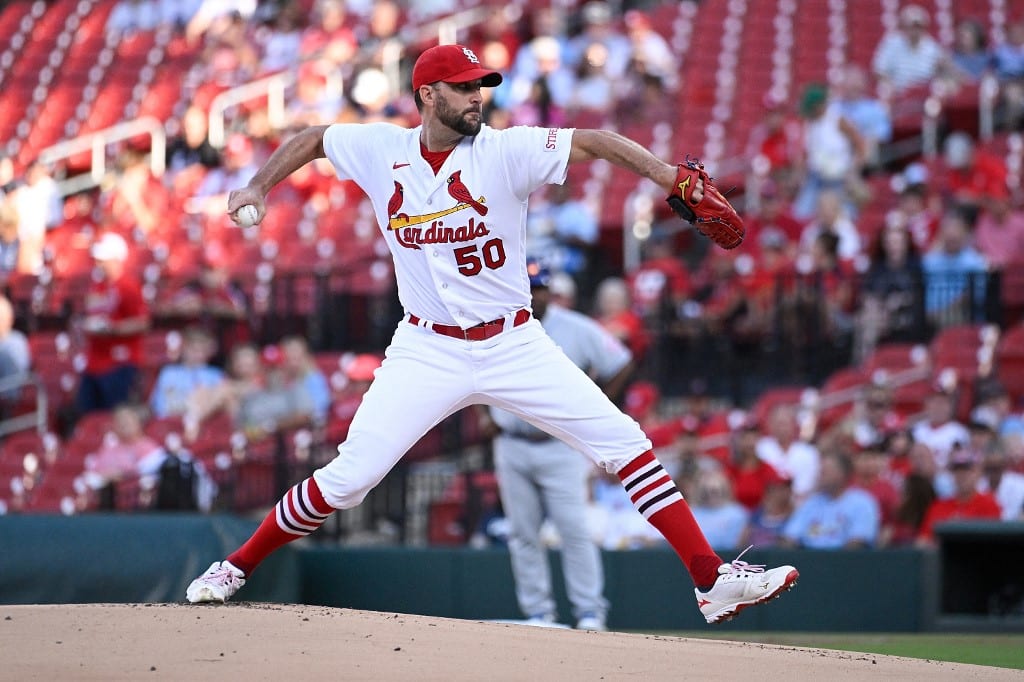 Top sportsbooks have released their MLB odds for today's baseball action.
Three games interest me today: Padres vs. Cardinals, Reds vs. Giants, and Diamondbacks vs. Dodgers.
For your best bets, I recommend that you invest in three player props.
Picks Summary
Adam Wainwright Over 3.5 Earned Runs (+120) at Bet365
Andrew Abbott Under 2.5 Earned Runs (-110) at Bet365
Zac Gallen Under 2.5 Earned Runs (+100) at Bet365
---
Monday, August 28, 2023 – 07:45 PM EDT at Busch Stadium
---
Adam Wainwright starts for St. Louis today.
Wainwright is reliably awful: he's allowed six earned runs or more in three of his last four starts. In the one exception, he benefited from a low BABIP (batting average of balls in play) against the Mets and allowed three earned runs despite struggling to induce soft contact or minimize hard contact.
Opponents regularly crush his pitches. His current struggles, which are consistent with his season-long problems, are particularly noteworthy because even weaker opponents have prolonged them.
Pittsburgh and Kansas City rank 24th and 28th, respectively, in runs per game. The Rockies faced him in St. Louis, yet were the third of these four teams to destroy him even though, on the season, they score 3.72 runs per road game.
Wainwright's Arsenal
Wainwright struggles against even low-quality lineups because he doesn't have the stuff to hang around in the majors. He is 41 and washed-up. However, he's somewhat of a franchise icon, and, while playing for a team that was a seller at the trade deadline, he's going for 200 career wins at the cost of his team winning games.
Given this goal, he will extend himself to complete five innings. Even if he starts out well, such as he did in his last start against a Pirates lineup that was in an awful spot for itself, opposing lineups will quickly figure him out.
It won't take batters too many chances to hit his fastball, which places in the 1 percentile in velocity and lacks spin. He throws his sinker and curveball more often, yet these pitches lack the quality to survive their tendency to land in the more middle parts of the strike zone.
Opponents slug .786 against his sinker and .477 against his curveball, the latter actually being one of his more "effective" pitches.
Padres Lineup
The Padres blew a 4-1 lead yesterday en route to their third straight loss, so they enter today's game in promising hitting form and hungry to win.
Padres batters are extra promising today given their history facing Wainwright. Manny Machado, Ha-Seong Kim, Xander Bogaerts, Garrett Cooper, and Juan Soto all bat at least .300 against him.
All of them but Soto also slug at least .500 against him.
MLB Prop Pick: Adam Wainwright Over 3.5 Earned Runs (+120) at Bet365
---
Monday, August 28, 2023 – 09:45 PM EDT at Oracle Park
---
Cincinnati starts Andrew Abbott tonight. Abbott's last start creates a misleadingly negative impression of him.
While he did allow three earned runs in four innings against the Angels, they pose a tough matchup for him because they rank fifth in slugging against his pitches from lefties. Conversely, he allowed fewer than three runs against softer matchups in the Guardians and Pirates.
The outcome of his starts consistently aligns with what I would expect based on the matchup. Hence, before limiting Cleveland and Pittsburgh, he struggled against the Nationals and Cubs, who likewise rank top against his pitches from lefties.
Before struggling against those two teams, he locked down softer matchups in the Brewers and in this Giants lineup which he'll face tonight. On July 20, facing them in Cincinnati's very hitter-friendly ballpark, he held San Francisco to one hit and zero runs in eight innings.
Abbott skeptics may say that it is tough to repeat such a performance against the same lineup, but he had no problem locking down Milwaukee in what was a more difficult rematch scenario given the lack of time between the first start and the rematch.
On July 15, he held the Brewers to two runs in six innings. Facing them again ten days later in their ballpark, he threw six shutout innings.
The Matchup Factor
Abbott throws a fastball, curveball, sweeper, and changeup.
He matches up well against a Giants lineup that ranks 23rd with a .394 slugging rate against his pitches from lefties.
The Spot
Furthermore, San Francisco is in a bad spot tonight, hitting-wise, because it just won a game.
The Giants are struggling to gain consistency: in the game directly following their last four wins, they scored two runs against the Rays, one run against the Rays, four runs in Philadelphia (they were down 10-2 in the ninth inning), and one run against the Braves.
MLB Prop Pick: Andrew Abbott Under 2.5 Earned Runs (-110) at Bet365
---
Monday, August 28, 2023 – 10:10 PM EDT at Dodger Stadium
---
Zac Gallen starts for Arizona tonight. Gallen enters today's game in strong form: he has allowed a combined total of two earned runs in his last three starts.
His current form is particularly impressive because, to sustain it, he had to do two difficult things. One, he had to face the same lineup (San Diego) twice in a row. Two, he had to face mighty Texas. His success against strong lineups is impressive because it entails that it is actually a good thing that he faces the Dodgers tonight.
The odds for his earned runs allowed "Under" are attractive because the Dodgers are very good, but his current form indicates that terrific lineups do not bother him.
Rematch
Skeptics might say that Gallen's last start in Dodger Stadium did not go well, but there are two responses to this skepticism.
One, that started took place on March 30, which was a time in which he was not pitching as well as he is now. Hence, he struggled in his following start against the San Diego lineup that he just stymied twice in a row. Two, he actually performed well in that start against the Dodgers.
In that start, he did a superb job of inducing soft contact and allowed hard contact at a minuscule rate. He was merely a victim of a high BABIP (batting average of balls in play). His 2.20 FIP in that start attests to his ability to thrive against the Dodgers.
MLB Prop Pick: Zac Gallen Under 2.5 Earned Runs (+100) at Bet365
---