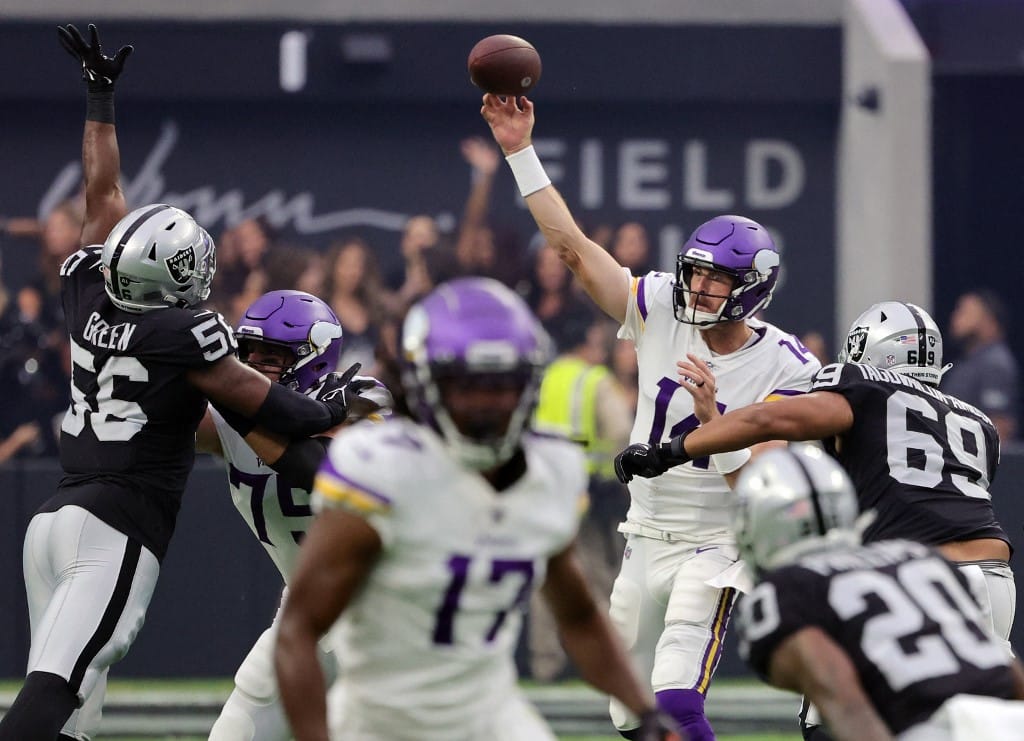 The NFL has scaled back the preseason schedule from four to three weeks after expanding its regular season schedule last year. So, is the second preseason game now the opportunity to bet with the most confidence?
Preseason Betting Rules
Preseason Game 2 might feature more starters than the other two games, but your handicapping confidence level on all preseason contests should be as low as it will be all year because we don't know who will be playing nor for how long.
Whatever your average unit wager is, cut it at least in half, maybe even quarter it because, well, see above.
A head coach's preseason record might be your best insight into these games. Some coaches believe winning exhibition games is important, others don't care.
Don't base your in-game betting on momentum. Those you see playing in this quarter will unlikely be on the field in the next quarter.
If you are losing, don't manufacture an opinion just to get even. Chasing your losses is never a wise idea and, in the preseason, it can be downright lethal to your bankroll.
---
Is Game No. 2 the New No. 3?
When the NFL's exhibition slate was four games, the general rule of thumb was that Week 3 was the most reflective of what the teams will look like when the games kick for real.
The conventional wisdom was that the first two games were primarily used to give the backups as much playing time as possible so the coaches could separate the wheat from the chaff.
The third game was considered a warmup for the season, getting the starters enough consistent playing time that it would somewhat replicate a regular season game.
The fourth game allowed for the starters to get a few reps in but then give way to those backups that were competing for a roster spot – a final audition, so to speak.
Things Have Changed
But now that we no longer have four games, the middle game of the three is considered to be the spot when the starters will get, if not the lion's share of the snaps, a good portion that will allow bettors to analyze games based on players they know versus those unknowns, who could very well be sitting in front of their televisions just like the rest of us when the regular season commences.
---
What's It Mean?
The anticipated starters getting the bulk of the workload means that bettors will now have a more informed idea about who is playing and will be able to equate that with what they know from historical performances.
Better that you are wagering on a known, rather an unknown, commodity and less likely that the outcome will bear no resemblance to what these teams will be when the games count in the standings.
But that said, we should understand that even the starters are not in midseason form and will be trying out new tactics that they may never have experimented with before in a game situation.
The margin for error is much higher because failure is not all that unexpected in a preseason game and there are little to no consequences.
Make an Informed Decision
Bettors must understand there are so many moving parts that betting any money of real consequence on any preseason game is simply not a good strategy. However, if there is one game that may sway you to invest a small sum in an exhibition contest, then Week 2 would be just such a game.
Although we review historical matchups, as well as the relative strengths of the offenses and defenses of each team, before we make a bet, we should also keep in mind that teams change from year to year. There are impact players who may no longer be with the club you are betting on and there are also additions to the club you are betting against.
In short, even though preseason Week 2 may allow for more time for the starters, you must check the depth charts of each team because it's a long offseason with a myriad of transactions, some of which you may have missed.
Don't worry, you're not alone, just don't assume you know what you think you know. Scour the injury reports and make sure the starters you think are on the team are still there and active for game time.
---
Shop Around
Just because it's the preseason, don't believe for a moment that the lines are all the same no matter where you wager. A half point can be the difference between winning and losing so don't take it for granted.
Remember, the money you are betting in the preseason is just as green as during the regular season. We all have finite bankrolls so don't blow it in the preseason by betting too much on meaningless games or being too lazy to get the best line.
Be your own advocate and make sure you have funded accounts at two or more online sportsbooks.
If you are unsure where to turn then you are fortunately at the right corner of the internet. OddsTrader has a list of NFL odds at all of the best sportsbooks.
---