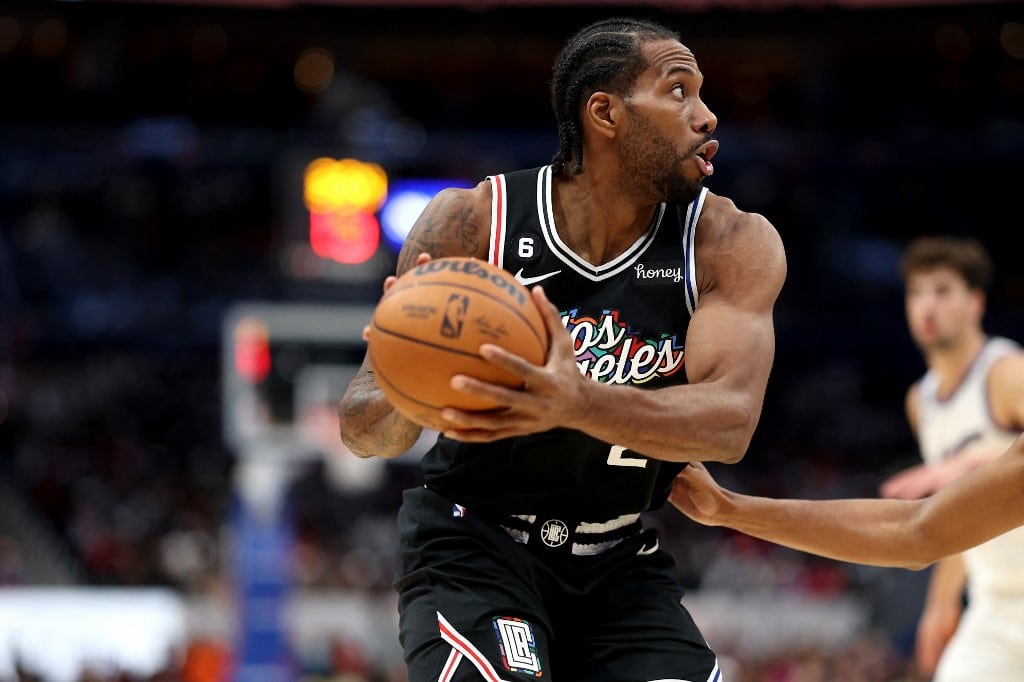 We have a great slate to find NBA player props tonight. There are plenty of great games on the board such as the Los Angeles Clippers vs. Los Angeles Lakers, the New Washington Wizards vs. Dallas Mavericks, and the Cleveland Cavaliers vs. New York Knicks.
The OddsTrader BetStation is a surefire way to find the best price for the player prop you are looking for. Using the tool I found today's Best Bets for NBA player props.
The app is available for free on your device's app store. It will show you statistical comparisons of each matchup, information on past meetings, as well as spread movement, injury news, and even the weather forecast.
---
Tuesday, January 24, 2023 – 10:00 PM EST at Crypto.com Arena
---
Kawhi Leonard (Los Angeles Clippers)
The Los Angeles Lakers and the Los Angeles Clippers meet tonight on TNT in the Battle of LA. Although it's only one game in the standings, this game means a lot to both teams. Since the Clippers have had a new owner Steve Ballmer and started being a serious contender, this game has meant a lot in the city of LA.
The Clippers have won both meetings so far this season. They won 103-97 in the first week of the season. In November they won 114-101.
The Lakers are playing much better right now and will be wanting to make a statement. With everything on the line, we can expect big games from both of the stars on each team, Kawhi Leonard and LeBron James.
The Pick
Kawhi Leonard has been on a tear as of late trying to get his team back to the top of the Western Conference standings. He has gone over this point total and six of his last seven games, and in the game, he went under he scored 24 points. In Kawhi Leonard's last two outings, he scored 36 and 30 points respectively.
After a long layoff with injury, we are seeing the return of the player that at one time was in the running for the best player in the world. As Kawhi Leonard gets back into basketball shape with more time on the court, he has become more and more precise and has been a deadly marksman shooting from the field.
Going against their crosstown rivals tonight, we expect to see a big game from the Clippers superstar with Over 27.5 points at the betting odds.
NBA Prop Pick: Kawhi Leonard Over 27.5 Points (-115) at Bet365
---
Tuesday, January 24, 2023 – 08:30 PM EST at American Airlines Center
---
Kyle Kuzma (Washington Wizards)
The Washington Wizards are expected to do a major overhaul in the roster before the trade deadline. The first domino fell yesterday when the Wizards traded 4th year forward Rui Hachimura to the Los Angeles Lakers for Kendrick Nunn and three second-round draft picks.
Kyle Kuzma knows that he is one of the players that might be on the move. With an expiring contract, and the game to help any contender, Kuzma will be an attractive piece for a team looking to make a playoff push.
Kuzma will be using the next set of games as an audition for potential playoff teams who might want to acquire his services.
The Pick
Kyle Kuzma has gone over at this point total and three of his last four games. This comes on the heels of a 40-point outing against the New York Knicks.
Kuzma has a great opportunity tonight to continue his streak of torrid shooting. The Wizards also have the incentive to feed Kuzma to make him more attractive and drive up the price as they look to deal their star forward.
Kyle Kuzma's ability to score has blossomed this season and the Wizards will continue to showcase his skills. I expect another big night from Kuzma when they take on the Dallas Mavericks.
NBA Prop Pick: Kyle Kuzma Over 24.5 Points (-115) at Bet365
---
Tuesday, January 24, 2023 – 07:30 PM EST at Madison Square Garden
---
Julius Randle (New York Knicks)
The New York Knicks are struggling right now, losers of four games in a row. They face a tough test tonight when they take on the Cleveland Cavaliers. The Knicks have struggled without their center Mitchell Robinson to anchor their defense. However, that has opened up statistical opportunities for another star, Julius Randle.
Most teams would probably play Randle as a small ball 5 in today's NBA, but New York Knicks coach Tom Thibodeau is old school and likes having a traditional defensive center. With Robinson out, however, Thibodeau has no choice but to conform to the norms of the new NBA That means that Randle will have an opportunity to play the center position tonight.
The Pick
At first glance, this number seems high. But taking a look at his game log, Julius Randle has had only one game without double-digit rebounds since December 27. He has gone Over this total in 11 of his last 14 games.
Julius Randle has been putting up monster numbers whether or not Mitchell Robinson is on the floor. But with Robinson out, he has an even greater opportunity to rack up rebounds.
I expect a big night on the glass from Julius Randle
NBA Prop Pick: Julius Randle Over 11.5 Rebounds (-145) at Caesars Sportsbook