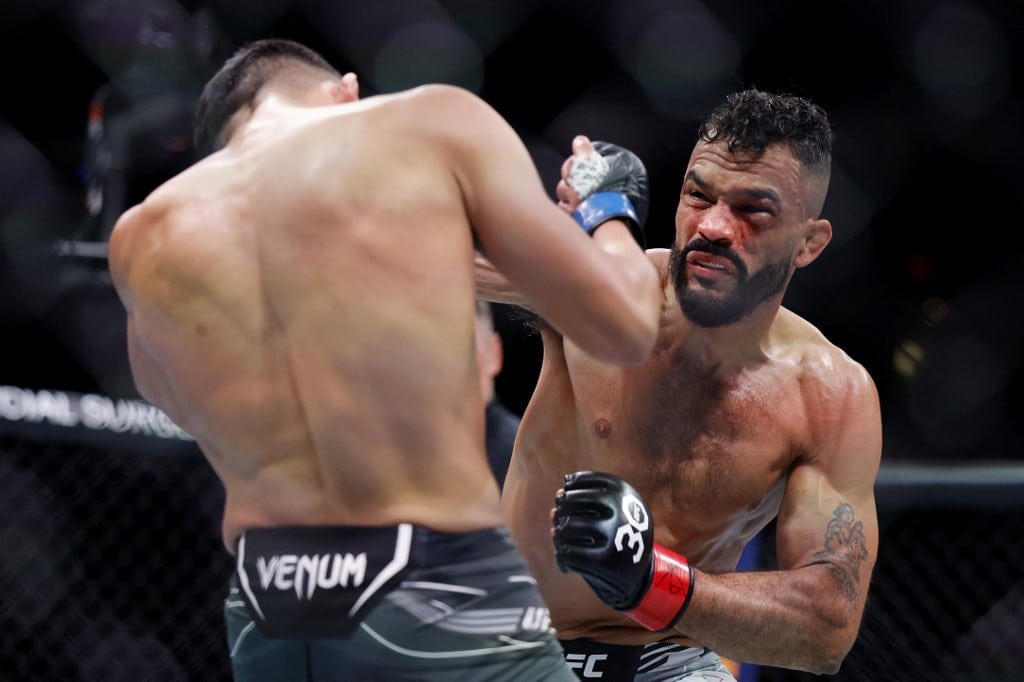 UFC returns to Nashville this Saturday, as fight fans are gifted with a main event of epic proportions when Cory Sandhagen takes on Rob Font.
The undefeated Tatiana Suarez does battle with the former champion Jessica Andrade in the co-main event, with both women attempting to stake their claim as the rightful title challenger.
Let's waste no more time and dive into the most noteworthy betting picks for the UFC Nashville main and co-main event.
Top UFC Nashville Picks
Sandhagen vs. Font Over 3.5 Rounds (-155) at Bet365
Andrade vs. Suarez Over 1.5 Rounds (-115) at Bet365
---
UFC Nashville Bantamweight Main Event Bout
Saturday, Aug 5, 2023 – 09:05 PM EDT at Bridgestone Arena
---
Twelve fights deep into his UFC tenure and Cory Sandhagen (16-4-0 pro-MMA) has garnered the elite-level experience that gifts him a significant advantage against upcoming contenders. He's fought the who's-who of the bantamweight division and will continue his quest to title contention this weekend.
Unfortunately for Sandhagen, he'll need more than experience to outwit Rob Font (20-6-0), as the product of Elevation Fight Team has collected an impressive resume of his own.
Both fighters possess noteworthy striking credentials and durability, thus making UFC Nashville's main event an incredibly difficult fight to predict.
Sandhagen vs. Font: Fight Tape Analysis
Sandhagen is renowned for his kickboxing offense, he's delivered awe-inspiring knockouts that have involved flying knees and wheel kicks, but he additionally owns an exceptional advantage in the grappling department when faced with opponents that lack depth in this area.
On the other hand, Font is regarded as one of the best boxers at 135 pounds. Sandhagen could test his offensive grappling and wrestling, but as the owner of more significant strikes in UFC bantamweight division history, he'll have minimal issues in delivering an impressive performance on the feet.
UFC Nashville Main Event Odds & Prediction
The current UFC odds have positioned Sandhagen as a massive betting favorite, but the odds now range between -300 -400 and aren't representative of the matchup at hand.
While I expect Sandhagen to have his hand raised due to a significant size and grappling advantage, the moneyline price isn't viable. However, expecting this fight to exceed 3.5 rounds at -155 shows value.
The over 3.5 has landed in four consecutive bouts for Sandhagen, while Font has gone the distance in 6 of his last 8 UFC contests. Furthermore, Font has never been knocked out during his 21-fight career and has suffered just one submission loss in 15 UFC bouts. Adding even more enticement, Sandhagen's durability is just as noteworthy, as he's never been knocked out and has also suffered just one submission defeat throughout his UFC tenure.
UFC Pick: Over 3.5 Rounds (-155) [1.55u returns 1u profit] at Bet365
---
UFC Nashville Women's Strawweight Co-Main Event Bout
Saturday, August 5, 2023 – 06:00 PM ET at Bridgestone Arena
---
Former strawweight champion and top-ranked competitor Jessica Andrade (24-11-0) is stepping up on short notice to face an undefeated prospect with less than 50% of the fight experience the Brazilian owns.
Andrade has fought the most elite level of competition throughout her career, and with a 53% finish rate from 24 UFC bouts to date, she's a powerful menace that cannot be underestimated.
Tatiana Suarez (9-0-0) may not even come close to Andrade regarding pro-MMA experience. Still, the season 23 winner of The Ultimate Fighter has utilized a wrestling background to dominate the opposition, and nobody has come close.
Andrade vs. Suarez: Fight Tape Analysis
Andrade thrives on being the bully in the octagon. Whenever she can be the aggressor and back her opponents up, she's rarely unsuccessful in gaining an advantage. She's small in stature but makes up for this in power, but a recent two-fight losing streak hasn't displayed evolution in her defensive grappling, which could be a huge problem on Saturday.
Suarez is arguably the most talented women's wrestler in the UFC. Her striking isn't perfect, but it's rarely required, as 100% of her opponents have been taken to the ground at least once, where she maintains top control or finishes the fight via KO/TKO or submission.
UFC Nashville Co-Main Event Odds & Prediction
The UFC prices at the top sportsbooks have placed Suarez as a significant betting favorite, but similar to Sandhagen, the -300 to -400 range isn't a viable wagering position for bettors.
Interestingly, and despite her dominance, Suarez's bouts have gone over 1.5 rounds in 5 of her 6 UFC bouts to date. Andrade will likely surrender to the wrestling offense, but she's only been submitted in the first round on one occasion from her 36-fight professional career.
I expect the power and experience of Andrade to keep her in this fight to at least the late second round, and I wouldn't be surprised if she could make this contest a close split decision. Either way, the value lies in the over 1.5 rounds at -115.
UFC Pick: Over 1.5 Rounds (-115) [1.15u returns 1u profit] at Bet365
---