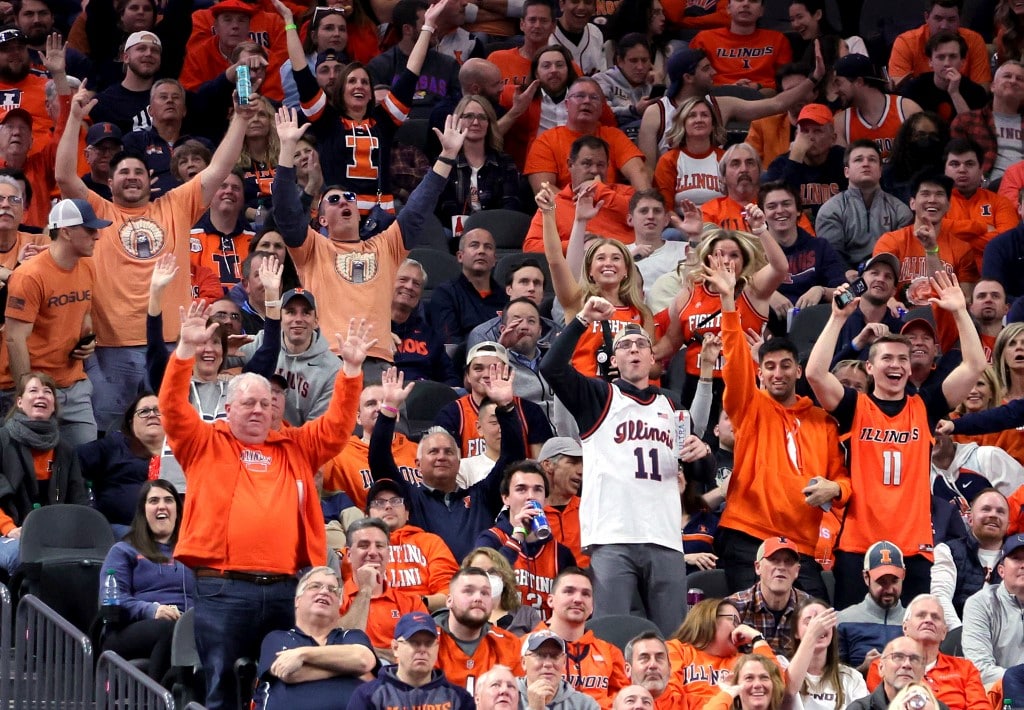 The Illinois sports betting market is one of the most robust in the nation. Since its inception, in August 2020, Illinois has seen the state's sports betting handle soar above the $25 billion mark. This makes Illinois the fourth state to reach this milestone, joining New Jersey, Nevada and New York.
However, the sportsbooks hold in August was less than 7% for the first time in 14 months.
Busy August in Illinois
The Illinois Gaming Board announced August's handle was over $676 million, an increase of over 10.5% from the previous month. Nonetheless, revenues fell 23.2% to $46.9 million due to a weak hold of 6.9%.
It was the first time since June 2022 that Illinois' average hold was less than the industry standard of 7% but the busy betting month saw the state place third in handle, only behind New York and New Jersey.
Top 10 States in August
New York $1.12B
New Jersey $725.8M
Illinois $676.1M
Nevada $431M
Pennsylvania $393M
Ohio $379.5M
Arizona $358.9M
Virginia $319M
Massachusetts $314.9M
Maryland $263.7M
The state saw $7.04 million in sports betting taxes while Cook County collected just shy of $509,000 based on its 2% tax imposed on betting within its borders. The state has now collected over $300 million in revenue all-time from the sportsbooks operating within its borders.
The following reflects the August handle by Illinois operators:
Casino Queen (DraftKings): $241.7 million
Fairmount Park (FanDuel): $217.8 million
Midwest Gaming & Entertainment: $70.4 million
Elgin Riverboat Resort: $35.7 million
Par-A-Dice Gaming: $31.3 million
Hawthorne Race Course: $29.6 million
HC Aurora: $29.2 million
Alton Casino LLC: $1.6 million
HC Joliet: $640K
Parlay Winning Cools
Enticing bettors to use parlays in their sports betting strategy has proved to be a boon for the house and doom for the customers. But even though August's 13.7% statewide win rate (hold) on parlays seems healthy enough, it was the lowest since it fell below 10% in February 2022.
FanDuel has ruled the roost on parlay wagering, having gone 13 consecutive months of a 20% hold or greater on parlay betting until a 17.6% dip in August. Nevertheless, one of America's most popular sportsbooks still handled $67.1 million in parlay action generating $11.8 million in revenue.
Two Horse Race?
As we have seen in recent months, DraftKings (check our DraftKings Review) has been edging FanDuel (check our FanDuel Review) in the handle race but trailing in the metric that matters – revenue. And so, it was again in August when the Boston-based bookmaker led all challengers in Illinois with a $241.3 million handle versus FanDuel's $222.6 million.
However, FanDuel came out on top in the revenue category with $17.3 million compared to DraftKings' $15.8 million. BetRivers (check our BetRivers Review) was also a big player in the Illinois market with $63.3 million in accepted wagers which generated revenue of $4.8 million on a 7.6% hold.
Illinois August Handle by Sport
Baseball: $196.7 million
Parlays: $141.6 million
Tennis: $92.1 million
Soccer: $46.1 million
Other: $28.5 million
Football: $23 million
Basketball: $15.1 million
Golf: $11.1 million
Boxing/MMA: $9.1 million
Football will soon be king in Illinois and throughout the country as it is expected to trounce all over sports beginning in September when the NFL and college football seasons commence.