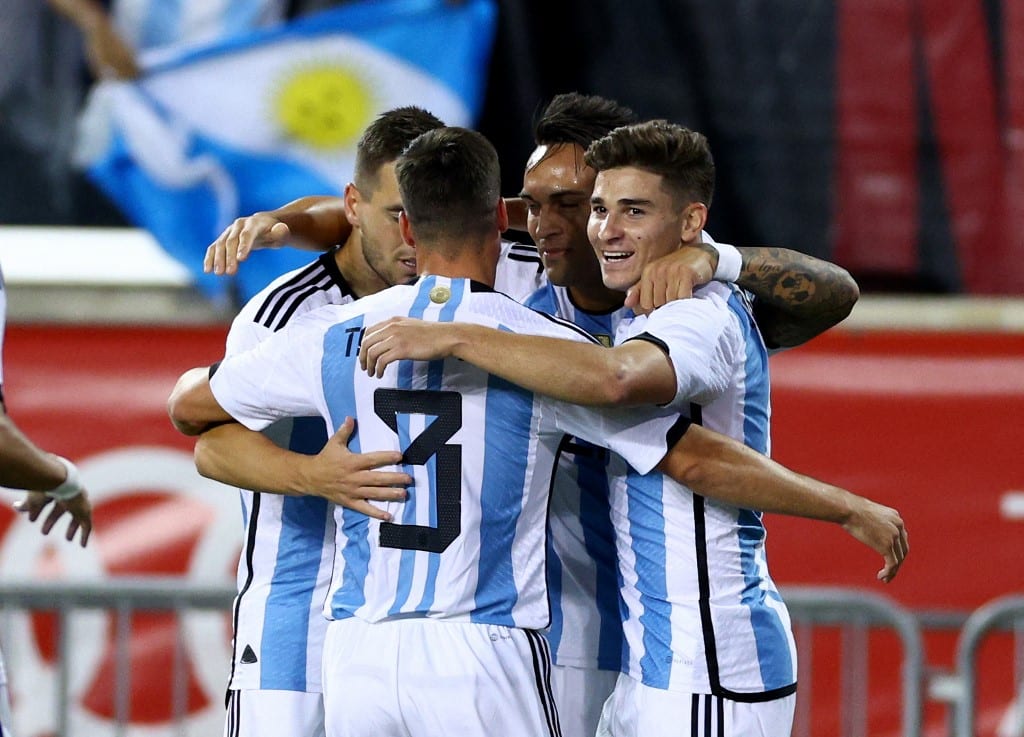 The 2022 FIFA World Cup is officially underway with some great action on the first two match days of the tournament. On days three and four, we've got some powerhouses with the names of Argentina, France, and Germany in action.
---
Tuesday, November 21, 2022 – 05:00 AM EST at Lusail Stadium
---
Argentina Should Score Plenty
As one of the World Cup favorites, Argentina will be looking to get off on the right foot in their opening match against Saudi Arabia. As you would expect, Argentina is a massive favorite with the line at -750 with sportsbooks like FanDuel. While the "Albiceleste" will win the game, there's no value in betting them straight up.
Having said that, this is one of our best group-stage matches to bet as there are lots of props markets that you can attack in this game.
FanDuel does have odds on who will score with Lionel Messi at -140 to get a goal which is not a great price. Actually we can give you four reasons why neither Messi nor Cristiano Ronaldo are good bets to win the Golden Boot.
However, while Messi can score at any given moment, Saudi Arabia will come to "park the bus" in front of the goal so to speak. The other thing is Messi's role has changed both the national team and his club. He's become more of a playmaker, especially for Argentina. I think there's more value in Lauturo Martinez to score anytime at +110.
Martinez has been one of the most consistent forwards across all of the major European leagues and has 7 goals and 3 assists in 15 appearances. His goal-scoring record for Argentina is very good as well with 21 goals in 40 matches. If Argentina is going to win this tournament, Martinez will have to play a big part.
World Cup Pick: Lauturo Martinez to Score (+110) at Bet365
---
Wednesday, November 23, 2022 – 08:00 AM EST at Khalifa International Stadium
---
Day 4 Draw Between Germany and Japan
This is not the German team that we've come to expect over the years. Starting with their center forward, this German team arrives in Qatar with no striker. They plan to play Kai Havertz there which is a position he seems more familiar with having filled that role at Chelsea. That said, he's filling a role, not playing his natural position.
There's some juggling Germany could do to maybe put Thomas Muller in that position but not only is he not a central striker, but he's also no longer a guaranteed starter either at this stage of his career.
There's also the backline which is usually a strong point for the Germans. At the moment, there are a lot more questions than answers on that defense, especially their two fullbacks who are not convincing at all. Speaking of defense, that is probably Japan's biggest weakness and I expect them to play a very tight game to protect that backline against the pace of Leroy Sane of Germany.
The Japanese have a lot of technically gifted attacking midfielders that could give Germany problems as well. Considering neither team has a clinical striker, I like this game to end in a 0-0 draw.
World Cup Pick: Germany-Japan Draw (+360) at Caesars Sportsbook
---
World Cup Parlay
---
Tuesday, November 21, 2022 – 02:00 PM EST at Al Janoub Stadium
---
World Cup injuries have been a problem for the France national team at key positions. The late announcement that Karim Benzema will miss the tournament through injury, leaves the reigning Player of the Year out of the World Cup. The thing is, France is so deep in terms of talent, it may not even matter. They will also be missing N'Golo Kante and Paul Pogba, the two starters in the center of midfield when they won the tournament in 2018.
The reason France is still a -390 favorite at the World Cup odds despite missing three starters is that they have so many replacements in every position. They'll be just fine without all of the aforementioned players and are still expected to win their group. Of course, it would be better if they were available but this squad is so deep, their absence would not be enough of an excuse for a poor showing.
I expect them to beat Australia in a tight game. These teams were in the same group in the last World Cup in a game that France won 2-1. That game was actually much tighter than the final result which is why I like France in this one. I expect them to take this team very seriously.
World Cup Parlay Pick: France (-370)
---
Tuesday, November 22, 2022 – 08:00 AM EST at Education City Stadium
---
The second leg of this parlay involves Denmark over Tunisia. This pick is as much fading Tunisia as it is backing Denmark. The Danes perform well in international tournaments having made it to the semi-final of the Euro and the quarterfinals of the last World Cup.
Tunisia have World Cup experience, they just don't have too much success to show for it. This is their sixth World Cup appearance and they've never made it out of the group stage in the previous five. In fact, in fifteen World Cup appearances, they have 2 wins, 9 loses, and three draws.
In their most recent games, they beat Comoros (who is ranked 129th in the world) 1-0 in a performance that even the most optimistic fan would not be impressed with. They then played Brazil who they lost to 5-1 in a game that was not nearly as close as the scoreline indicates.
World Cup Parlay Pick: Denmark (-172)
---
Parlay Picks
France ML (-370)
Denmark ML (-172)
World Cup Pick: Two-Legged Parlay (+100) at Caesars Sportsbook
---