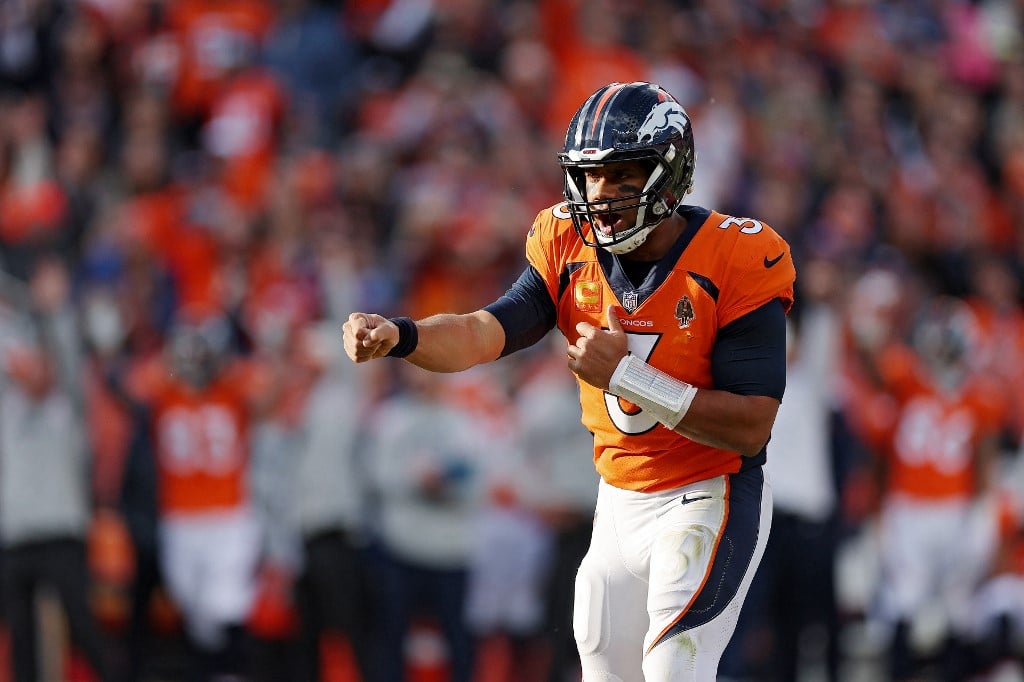 NFL Pick: 2023 Denver Broncos Over 8.5 Wins (-118) at BetRivers
---
The Denver Broncos had a season they would like to pretend never happened. With playoff hopes after trading for Russell Wilson, the Broncos faceplanted on national TV in Week 1, then did it several more times as the schedule also had high hopes for this team.
Rookie head coach Nathaniel Hackett did not survive the full season. He was fired with a 4-11 record. Wilson had the worst season of his career, and the Broncos finished dead last in scoring with 16.9 points per game.
Enter Sean Payton, a favorite for Coach of the Year at many of the top online sportsbooks.
The playoffs could still be difficult given how stacked the 2023 AFC is and the way the Kansas City Chiefs run the AFC West. But getting to over 8.5 wins and a winning record looks plausible if Payton can do what he did in New Orleans with his new team.
---
The Changes That Matter
Fixing Russell Wilson cannot be the hardest thing Sean Payton has ever tried to do. He has prepared Taysom Hill for multiple starts in this league. But this new union is the No. 1 story in Denver this year, because if Payton cannot fix Wilson, then the Broncos may have to admit they bought damaged goods, which would really hurt Wilson's Hall of Fame chances that once looked like a lock.
Sean Payton: I Can Fix Him (He Hopes)
Coaching matters. Quarterbacks matter. This is going to be a fun story to watch unfold in Denver this year as Payton tries to fix Wilson. In 15 years as a head coach, Payton has seen his offense rank in the top 20 in points every year. He's had a top 12 ranking in yards every year except for 2021 when the Saints were 28th.
The 2021 Saints were coming off Drew Brees' retirement, and wide receiver Michael Thomas was injured. We could probably give Payton a pass for that one, though it does show his system is not foolproof to overcome bad quarterback play.
Wilson was no doubt painfully ineffective last year. He set career lows in completion percentage (60.5%), touchdown pass rate (3.3%), and he took a career-high 55 sacks.
But it was not horrific enough to think there is no saving a quarterback who turns 35 this season.
Not As Bad
According to Pro Football Reference, Wilson ranked 17th in bad throw rate (15.6%), which was right between Super Bowl MVP Patrick Mahomes (15.6%) and 2022 passing efficiency leader Tua Tagovailoa (15.8%). Wilson ranked 24th in on-target pass rate (73.3%), which sounds bad until you realize Josh Allen (73.7%) was 23rd for Buffalo last year.
It is unlikely that Wilson will turn into a 5,000-yard passer like how Payton ran things with Brees all those years in New Orleans. But he can focus on what Wilson does best with throwing deep and get more consistency in the run game and short-passing game.
This is very much salvageable, and it will take a collective effort from the other players as it was not just Wilson as the issue last year.
Better Skill Players?
While Tim Patrick unfortunately ruptured his Achilles and will miss another season, the Broncos could be better prepared for a WR3 to play behind Courtland Sutton and Jerry Jeudy. The team drafted Marvin Mims Jr. in the 2nd round. He averaged 19.5 yards per catch at Oklahoma, so he could be a big-play threat in Payton's offense this year.
It also is not acknowledged that Wilson had a solid connection with Jeudy last year despite the offense being poor overall. Jeudy had his best season with 972 yards and 6 touchdowns, and he averaged a career-high 9.7 yards per target.
Tight end Greg Dulcich flashed some big-play potential as a rookie, and he has a chance to make a big leap in his 2nd year.
Javonte Williams is back as the team's best running back, and they added a solid backup in Samaje Perine from Cincinnati. Payton-coached offenses love throwing the ball to running backs, and Perine is a capable receiver.
Defense: Hold the Fort Down
It is possible the Broncos will take a step back on defense this year. The team already traded its best pass rusher Bradley Chubb to the Dolphins last season. In 8 games with Denver, Chubb had 18 pressures, which almost led the Broncos for the season. They did not have any player reach 20 pressures. Sack leader Dre'Mont Jones (6.5 sacks) went to Seattle this offseason.
So, the pass rush could be shaky with the team relying on the unreliable Randy Gregory. Linebacker Baron Browning is also coming off the physically unable-to-perform list.
The secondary will have to be the strength here. Fortunately, the Broncos have one of the brightest young corners in the game in Patrick Surtain II. They also have a top-tier safety in Justin Simmons.
When Payton had those 7-9 seasons in New Orleans, it was because the defense was in the bottom quarter of the league. There is good reason to think the Broncos can be average or above average on defense in 2023.
---
2023 Schedule Analysis
By virtue of playing in the AFC West, the Broncos are going to have a tough schedule in the division. The Chiefs have found every way possible to beat this team since 2015, though you could argue the defense plays Mahomes better than most in the league. That would be a massive win for this team to end that streak this year, but at the very least, they should be able to get at least a split with the 2023 Los Angeles Chargers and the 2023 Las Vegas Raiders.
But playing the NFC North will present some winnable games as it looks like a division that could be won with a 9-8 record this year. The Broncos also get the Washington Commanders in Week 2 at home, so Sam Howell may still look inexperienced in a road start against a good secondary. They could also see a rookie quarterback (C.J. Stroud) in Houston in Week 13.
Bottom-Feeders?
The Broncos host teams like the New England Patriots (Week 16) and Cleveland Browns (Week 12), who could be on the lower end of scoring in the league. There is a rough stretch where Denver will see Kansas City twice and the Buffalo Bills (Week 10), but at least there is a bye week thrown in there.
Many teams are fighting for the playoffs in the AFC this year. The teams battling for wild-card spots since they are not the favorites to be division winners like the Baltimore Ravens, New York Jets, Miami Dolphins, Los Angeles Chargers, and Pittsburgh Steelers may be better equipped to make it this year than Denver.
But if you believe Wilson and Payton have had Hall of Fame-caliber resumes, and that they are going to figure this out this year, then you should take the over for your NFL ATS best bets.
The Pick
Fool me once, shame on me. Fool me twice, and the Broncos and Payton can go looking for a new quarterback in the 2024 draft. Plus, this has to work, or Payton is going to look bad in trashing the job Hackett did in Denver last year. He spoke the truth, but still, you never hear a coach break rank like that and tell it like it is about another coach.
Let's get back to making the Broncos interesting, which has not been the case since Peyton Manning retired 7 years ago.
NFL Pick: 2023 Denver Broncos Over 8.5 Wins (-118) at BetRivers
---
2022 Recap: Broncos Country, Let's Ride Back to Seattle and Ask for a Refund
The Broncos had such high playoff expectations for the first season of Russell Wilson and Nathaniel Hackett. When a video leaked of Wilson practicing his new catchphrase ("Broncos Country, Let's Ride!"), no one would have imagined he'd film more takes of that than he'd throw touchdown passes (16) in 2022.
Right from Week 1 in Seattle there were issues. The Broncos played an awful game, had trouble getting plays in, were terrible in the red zone, and they completely mismanaged the final drive, settling for a 64-yard field goal that failed. If there was an argument for firing a head coach after 1 game, this was the case.
Week 1 Jitters?
But maybe it was just Week 1 jitters in a tough environment with Wilson going back to Seattle, a team that was ready to make him look bad. However, as the NFL world would painfully begin to learn with Denver having 4 prime-time games in the first 6 weeks, this offense just stunk last year.
The Colts were in a similar boat with Matt Ryan struggling, and when the teams met in Week 5, it was a fitting 12-9 finish with all field goals. Wilson had a chance to win the game in overtime, but he threw a game-ending interception.
Not even a bye in Week 9 helped. The Broncos also had health issues with running back Javonte Williams going down for the season after just 4 games. Tim Patrick tore his ACL in the preseason. Jerry Jeudy and Courtland Sutton were banged up at times. Left tackle Garett Bolles missed 12 games. Even Wilson missed a couple of starts for some minor injuries.
But week after week, the Broncos made scoring 17 points look difficult. They were also 32nd on 3rd down, which is an overlooked flaw in Wilson's game from Seattle where his offenses there rarely ranked well on 3rd down. He tends to get sacked more than you would like in those situations.
Odd Twist
In an odd twist, the 3-9 Broncos scored more than 23 points for the first time all season in a game against the Chiefs. Wilson left that game with a concussion, but he led a spirited rally before getting hurt on a 3rd-down run. Brett Rypien threw a tough interception late in the game, and the Chiefs held on for a 34-28 win.
The Broncos also had a 4th-quarter lead in the rematch in Week 17 with Kansas City. But the Chiefs came back for their 15th win in a row over the Broncos dating back to 2015.
Denver would love to end that streak in 2023, but this team has a lot of improvement to do on offense.
---