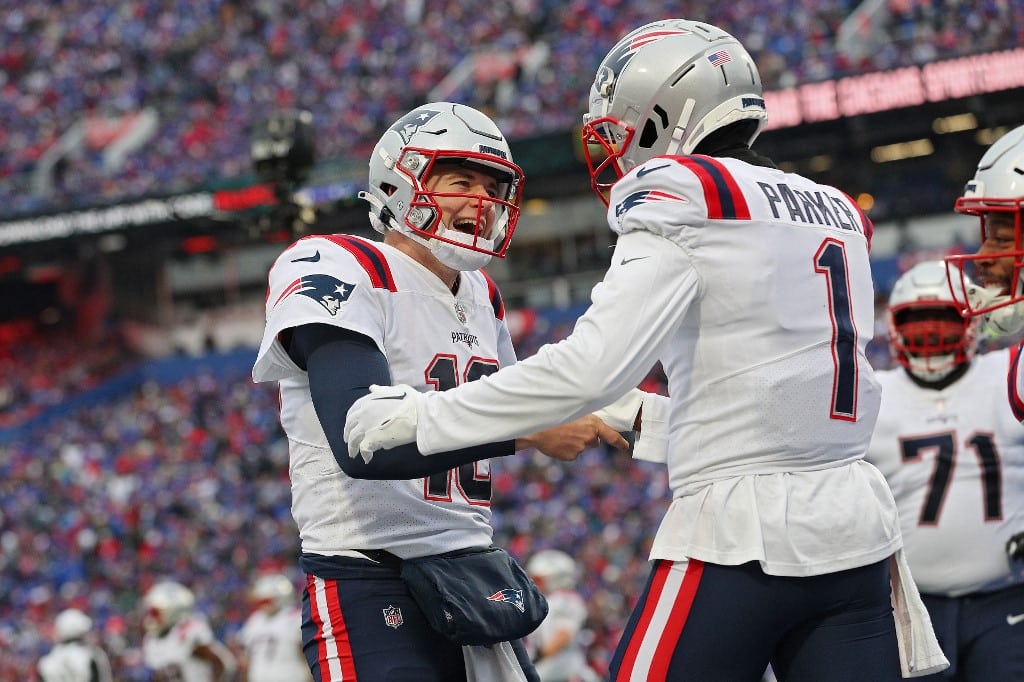 NFL Pick: 2023 New England Patriots Under 7.5 Wins (-150) at BetRivers
---
The New England Patriots have not finished last in the AFC East since 2000, which was Bill Belichick's first year on the job. But with the quarterback imbalance the division was long known for having completely swung against the Patriots, this could very well be the worst season for the team since 2000.
The over/under at top online sportsbooks is just 7.5 wins for New England. Does Belichick have any tricks left up his sleeveless hoodies for a season that goes over? He at least has a real offensive coordinator this time.
---
Significant Changes
Belichick brings back another former assistant to run the offense, but at least this one should work out. More uncertain are the additions at wide receiver and corner, arguably the 2 positions Belichick has been his worst at scouting in his career.
New Offensive Coordinator: Hi, BOB
Bill O'Brien is back in New England as the new offensive coordinator. He was with the team during their most dominant offensive period in 2007-11, serving as the coordinator in the 2011 Super Bowl season.
In recent years, O'Brien had unremarkable runs as the head coach of Penn State and then the Houston Texans. He was coordinating Nick Sabana's offense in Alabama the last 2 years, and Saban obviously has a long history with Belichick, so these coaches are on the same page with each other.
Different Scenery
But O'Brien is returning to a very different New England offense. There is no Tom Brady, Randy Moss, Rob Gronkowski, Wes Welker, or Julian Edelman here. He will have to make things happen with Mac Jones and a plethora of No. 2 and No. 3 receivers.
The Patriots also lost Damien Harris at running back, though Rhamondre Stevenson is a solid back who can take the No. 1 job. They also added Ezekiel Elliot this summer, though he is past his prime.
But O'Brien should be an improvement over what the Patriots were doing last year.
New Receivers
The Patriots have been a revolving door at receiver, and this year is no different. JuJu Smith-Schuster comes over from the Chiefs where he was the de facto No. 1 wideout last year. He is a capable receiver who can play inside and outside, and he has solid hands and can do things after the catch. But he would be a low-end No. 1 if the Patriots choose to feature him that way.
JuJu will share targets with DeVante Parker, who struggles to get separation. That has always been the knock on him for years. The Patriots also need to see more out of 2022 2nd-round pick Tyquan Thornton.
Mike Gesicki comes over from Miami as another tight end to go along with Hunter Henry. The tight-end position is one the Patriots have spent some money on since Rob Gronkowski retired, but it is hard to argue they have found much use for these players. They let go of Jonnu Smith after an irrelevant run with the team. Hopefully, they can figure out how to make Gesicki and Henry work.
New Face in the Secondary
When you think of Belichick's Patriots, you think of veterans in the secondary, including Ty Law, Rodney Harrison, and Asante Samuel. For the last 13 seasons, it was Devin McCourty at corner and safety.
But McCourty announced his retirement this offseason. The Patriots ended up drafting a corner in the 1st round who could be the new face of this secondary for years to come.
But Christian Gonzalez (Oregon) did slide a bit to the No. 17 pick as many had him projected for the top 10. We will see if the Patriots got a steal and great value there. He should be a Week 1 starter.
---
2023 Schedule Analysis
Finally, there is the biggest challenge facing the Patriots this year: the 2023 schedule.
For a team who used to get schedules that were a cakewalk to another division title, the Patriots are listed as an underdog in 14 of the 17 games this season. Those lines obviously are subject to massive change and may not mean much in August, but let's check out this schedule.
It is hard to argue that the Patriots won't be underdogs in most of these games when they are played:
The Patriots are underdogs in every division game with the quarterback imbalance, and the fact that Buffalo, Miami, and the Jets all have playoff aspirations.
New England will travel to take on the Cowboys, an elite NFC team, and they are going to Pittsburgh (Week 14) and Denver (Week 16) in December, teams expected to be better in 2023.
The Patriots return to Vegas (Week 6) and the scene of the lateral crime last year, and Josh McDaniels is 2-0 against Belichick as a head coach.
The only teams the Patriots are favored over are the Saints (Week 5), Commanders (Week 9), and Colts (Week 10), and it would not be crazy if the Saints and Commanders prove to be better teams.
The Pick
The Patriots had an incredible run, but when you lack the franchise quarterback and bleed away elite talent, you are left with mediocrity at best. Without the safety net of sweeping the Jets like the Patriots have every year since 2016, you have to think this is the year they return to the cellar in the AFC East.
Take the under for your NFL ATS best bets.
NFL Pick: 2023 New England Patriots Under 7.5 Wins (-150) at BetRivers
---
2022 Recap: It's Not Rocket Science
Coaching is a funny thing in the NFL. Josh McDaniels would largely be seen as a failure with the Raiders last year after the team blew so many big leads and winnable games on the way to a 6-11 record.
But his offense did do some very functional things like turn Josh Jacobs into a rushing leader and Davante Adams had more 30-yard touchdown catches than he had in any season with Aaron Rodgers in Green Bay.
Dearly Missed
That is why McDaniels was dearly missed in New England as the offensive coordinator. He could have helped Mac Jones progress in his 2nd season after showing signs of promise as a rookie. But a high-ankle sprain knocked Jones out for a few weeks, and he just never looked very comfortable in running this new style of offense.
Belichick made a big mistake in bringing back former cronies Joe Judge and Matt Patricia, who both failed as head coaches elsewhere, to run his offense in McDaniels' place.
The Patriots finished 26th in yards and 28th in first downs. The situational play was just as bad as the Patriots finished 27th on 3rd down and were dead last at scoring touchdowns in the red zone (42.2%).
Unfortunately
But with the defense still doing a respectable job under Belichick's guidance, the Patriots were 7-6 and still in the thick of the playoff hunt despite a loaded division race.
Unfortunately, this team destroyed its chances with 2 of the worst fumbles in the 2022 NFL season. Against the Raiders, the Patriots were driving in a tied game, but overtime looked likely. Instead of playing it safe, Jacobi Meyers decided to lateral a live ball back to Jones. But he found Chandler Jones, the former Patriot turned Raider, and he returned it for a game-winning touchdown to shock all football fans.
This kind of mistake is just not something you see from the Patriots, but their skill players have been fumbling in crucial spots for 3 years now since Tom Brady left the team.
A week later against the Bengals, the Patriots had a spirited comeback attempt after falling behind 22-0. Down 22-18 and having a 1st-and-goal at the 5-yard line, the fumbling struck again as Rhamondre Stevenson coughed up the ball on what could have been a game-winning drive.
Costly Defeat
The Patriots got another win against a backup quarterback for Miami to get back to 8-8, but they had little chance of winning in Buffalo in the first game after Damar Hamlin's health scare. The Patriots even allowed a pair of kickoff return touchdowns – another mistake you usually would never see from a Belichick-coached team.
That final loss dropped New England to 8-9 and out of the playoffs.
---