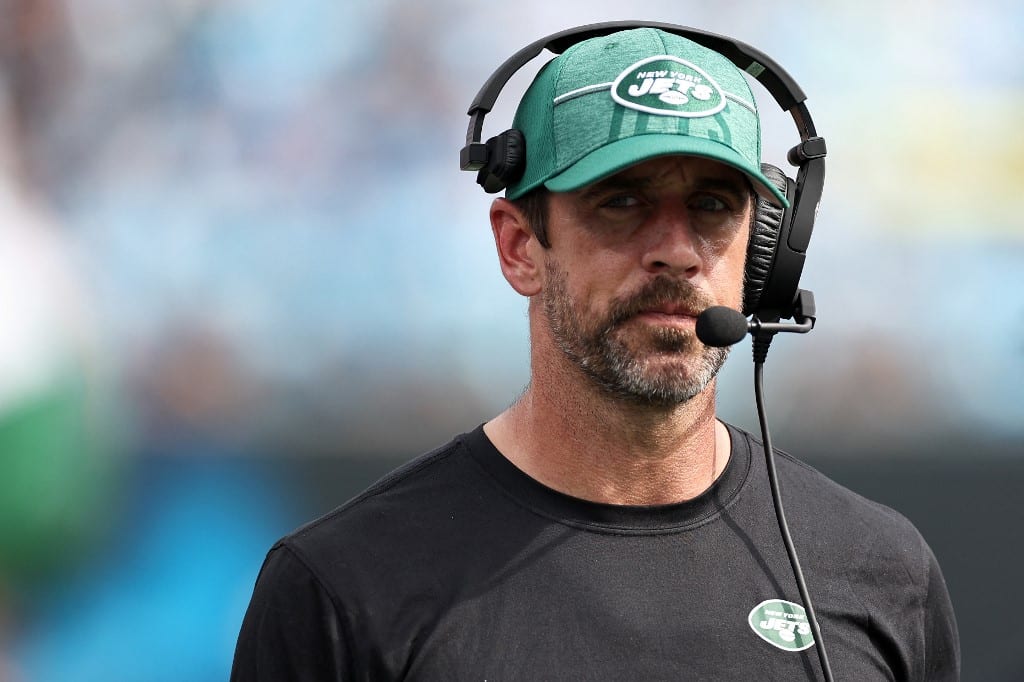 NFL Pick: 2023 New York Jets Over 9.5 Wins (-121) at BetRivers
---
For a franchise with a sordid history, the last dozen seasons for the New York Jets have been the lowest point yet. No playoff appearances since 2010, which is an eternity in NFL time.
Alas, the 2010 season is also the only time Aaron Rodgers made it to the Super Bowl when he won game MVP honors with the Packers. But after that relationship soured following 18 years together, Rodgers has been traded to a quarterback-starved franchise that has a strong roster in place for him.
But is there going to be buyer's remorse after Rodgers is coming off the worst season of his career? He turns 40 this year too. Even Brett Favre was still going on 39 when he joined the Jets in 2008, and that worked for 11 games until he tried playing through injury in a disastrous finish.
The top online sportsbooks still have high expectations. The Jets are not favored to win the AFC East because of the Buffalo Bills, but their over/under 9.5 wins does suggest the playoff drought is expected to come to an end this year in a stacked AFC.
---
Significant Changes
Just like the producers of HBO's Hard Knocks, we are all Aaron Rodgers all the time for the 2023 Jets.
Making Aaron Comfortable
Name a stat and chances are Aaron Rodgers was at his least efficient or productive for it in the 2022 season. We knew that was going to be a tough year for him given the trade of Davante Adams to Las Vegas, but things were rougher than expected.
Rodgers averaged a career-low 217.4 passing yards per game. He did not throw multiple touchdowns in any of his last 5 starts, the longest streak of his career. He had a losing record (8-9) for only the 3rd time in his career.
Thumbs Down
But Rodgers did break his thumb in Week 5, and that kicked off a losing streak that was among the lowest points of his career in the NFL. That is healed now.
Also, the Packers were a team doing a light rebuild after the Adams trade, and Rodgers' new receivers struggled to stay healthy. If you look at the 2 worst statistical seasons of his career (2015 and 2022), the common link is a lack of a No. 1 receiver. Jordy Nelson tore his ACL in the 2015 preseason.
---
Greener Grass
This problem should be solved with Garrett Wilson on the Jets, but other factors should lead to Rodgers being comfortable this year.
He has the same offensive coordinator (Nathaniel Hackett) he had in Green Bay when he won back-to-back MVP awards in 2020-21. Sure, Hackett was awful as Denver's head coach last year, but some coaches should only be coordinators and not have the top job. Hackett seems like one of those coaches. Rodgers and Hackett should be on the same page early on in a way other quarterbacks would not be when they move to a new team.
Rodgers also is bringing Allen Lazard and Randall Cobb with him as wide receivers to New York. This has taken on new importance after Corey Davis, a projected starter, decided to retire this week.
Solid Backfield
After Breece Hall's ACL injury last year, the Jets lacked any real explosion in their running game. Hall is back, and it is reasonable to think he won't be 100% in Year 1 after that serious injury.
The fact that the Jets signed Dalvin Cook is another sign he may not be ready for a huge workload, but it is a smart signing for a team with a tiny window to do something. Cook should be useful this year to Rodgers.
---
Top Defense?
If the Jets want to achieve greatness this year, they cannot fall into the trap of thinking they can relax on defense because they have a Hall of Fame quarterback who can win high-scoring games. They need to continue playing great because Rodgers is going on 40 and not in a position to be winning 38-35 games against Josh Allen and Patrick Mahomes in the AFC.
The Jets have a better defense than most teams in the NFL, but we know defenses can be inconsistent from year to year. But even just a fringe top-10 defense would be better than just about every unit Rodgers had in Green Bay the last dozen years. His 2010 defense was elite when he won the Super Bowl, then he never had anything like it again.
The Jets also have room for improvement here in that the defense only had 2 takeaways in the final 8 games of the season. Hopefully with Rodgers, the Jets will get more time to rest on defense thanks to sustained drives, and the team will play good, complementary football with the offense and defense helping each other.
You know, the kind of thing we never see with the Jets.
---
2023 Schedule Analysis
Expectations are no doubt very high for Rodgers. We have seen Joe Montana (Chiefs), Brett Favre (Vikings), Peyton Manning (Broncos), and Tom Brady (Buccaneers) all go to a new team and appear in a Conference Championship Game or Super Bowl in their 1st or 2nd season.
When these things work, they usually work right away. But with the 2023 Jets, that early record could be rough given the first 6 opponents are:
It is hard to imagine any other team having a harder 6-game run than the Jets have before their bye this year. You know things are tough when you are facing the top 3 Super Bowl favorites, and the "weakest opponents" have Bill Belichick and Sean Payton as head coaches.
But if the Jets can start at least 2-4, they should be able to come out of the bye and start rolling when the schedule eases up. Soon, they will be playing teams that will have a hard time scoring a lot on this defense, and Rodgers should be in a groove if he isn't earlier.
The Pick
Trust the process of adding a Hall of Famer with something left to prove. Trust the defense to be adequate and give Rodgers his best shot at a ring in years. Trust the Jets to finally have enough of a passing game to be a threat, finishing with over 9.5 wins for your NFL ATS bets.
If the whole thing is a disaster on par with Russell Wilson going to the Broncos last year, then we just hold a tar and feather event for Nathaniel Hackett, because it must be his fault.
NFL Pick: 2023 New York Jets Over 9.5 Wins (-121) at BetRivers
---
2022 Recap: Ignore Quarterback and It Was a Good Year
In trying to look at the positives after a 7-4 start led to a 7-10 finish, the Jets absolutely nailed their 2022 draft class to this point.
Just as running back Breece Hall was starting to dominate with big plays, he tore his ACL, ending his season. If not for that injury, he may have been the Offensive Rookie of the Year.
Fortunately, wide receiver Garrett Wilson picked up the slack and won that award after he had 83 catches for 1,103 yards despite playing with an unholy trio of quarterbacks (Joe Flacco, Zach Wilson, and Mike White). Wilson had a 100-yard receiving game with each quarterback to show his versatility.
De-Fence!
As for the defense, Robert Saleh's unit did an incredible turnaround after finishing 32nd in points and yards in 2021. Last year, the Jets improved to No. 4 in both categories. Leading the way was a rookie corner, Sauce Gardner, who won the Defensive Rookie of the Year award in a landslide as he was also named 1st-Team All-Pro at corner.
Those were the positives. As for the negatives, you can start with quarterback since we are talking about the Jets. Zach Wilson did not show enough improvement in Year 2, and the Jets have continuously shown us they do not trust him to throw the ball. When Flacco or White started, the Jets were among the pass-happiest teams in the league. But that was not the case when Wilson started.
The Jets lost 5 games where they allowed no more than 20 points last year, a massive letdown to waste defensive performances like that. The Jets also lost their 13th and 14th games in a row to the Patriots, who they haven't beaten since 2015.
Building For the Future
Between the defense and young skill players, the Jets are putting together a sound team that just needs a quarterback. They hope they have one seeing as how he is a 4-time MVP and 1st-ballot Hall of Famer. But Brett Favre was a 3-time MVP and future Hall of Famer, and we know how this played out before for New York.
---