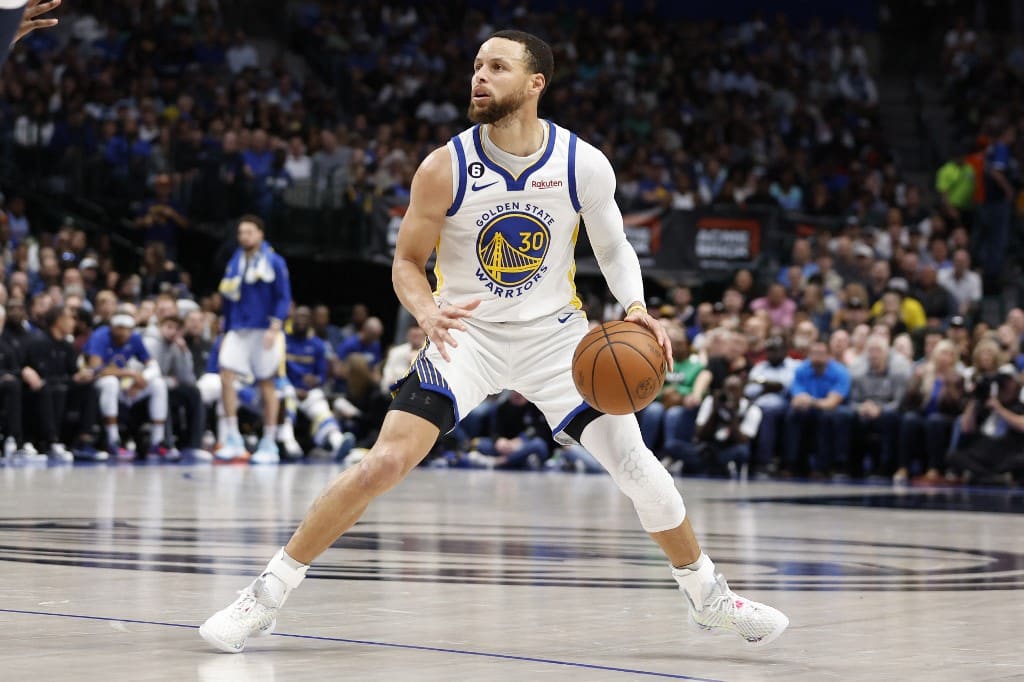 The NBA brings us more action for tonight and we are excited to find more winning player props.
We have a fun NBA slate tonight. There are fantastic matchups for us such as:
Philadelphia 76ers vs. Golden State Warriors
Detroit Pistons vs. Toronto Raptors
San Antonio Spurs vs. Washington Wizards
The OddsTrader NBA player prop tool is a surefire way to find the best price for the player prop you are looking for and that's how we found today's best NBA player props.
Picks Summary
Steph Curry: Over 26.5 points
James Wiseman: Over 8.5 Rebounds
Kristaps Porzingis: Will Record a Double Double
---
Friday, March 24, 2023 – 10:00 PM EDT at Chase Center
---
Steph Curry (Golden State Warriors)
The marquee matchup of the evening features the Philadelphia 76ers traveling to California to take on the Golden State Warriors. Both teams have championship aspirations and will be looking to make a statement tonight. However, there are questions about the health of the Philadelphia 76ers stars. Both James Harden and Joel Embiid are questionable for tonight's game. Harden sat out Philadelphia's 116-91 win over the Chicago Bulls on Wednesday night.
The 76ers defeated the Golden State Warriors once this season when they won 118-106 in Philadelphia on December 16th. In that game, James Harden had 27 points and Joel Embiid had 34 points. However, Steph Curry did not play in that game.
The Pick
Steph Curry averages 29.6 points per game this season. He has exceeded tonight's point total in three of his last five games, including a 50-point outburst against the Los Angeles Clippers. With the Warriors back at home, I expect them to make a statement and have a big night.
The Warriors are fighting for playoff position and they know that every game counts at this point. Steph Curry will lead the way and go over his point prop total tonight.
NBA Prop Pick: Steph Curry Over 26.5 points (-135) at Bet365 (check our Bet365 Review)
---
Friday, March 24, 2023 – 07:30 PM EDT at Scotiabank Arena
---
James Wiseman (Detroit Pistons)
The Toronto Raptors had a seven-game home winning streak snapped on Wednesday night when they fell 118-114 to the Indiana Pacers. The Raptors will be looking to build a new streak tonight against one of the worst teams in the league, the Detroit Pistons.
The Pistons are 16-57 on the year and have lost four straight games. Detroit is prioritizing the development of young players rather than playing their best players in order to try to win.
The Raptors and Pistons have played three times this season and the Raptors have won all three games. The Raptors will look to close out a season sweep tonight.
The Pick
The Pistons are trying to develop young players and one of the key beneficiaries of this is James Wiseman. Wiseman is a former number 2 overall pick but he struggled to get minutes playing on the Golden State Warriors.
Since joining the Pistons and being given latitude to make mistakes that he wasn't given in Golden State, Wiseman has shown the talent that led him to be drafted number two overall. Wiseman is a tall, athletic player who could develop into a star.
James Wiseman has gone over tonight's total in six of his last seven games. I expect him to have another big night on the boards as Pistons coach Dwayne Casey will give him plenty of playing time in order for Wiseman to continue to learn how to play the game on the NBA level. James Wiseman will have a big night on the glass and go over this rebounding prop.
NBA Prop Pick: Over 8.5 rebounds (-105) at Bet365
---
Friday, March 24, 2023 – 07:00 PM EDT at Capital One Arena
---
Kristaps Porzingis (Washington Wizards)
The Washington Wizards are almost eliminated from their playoff hopes being realized. Washington is now 32-41 and fell into 12th place. They are now two and a half games behind the Chicago Bulls for the final spot in the playoffs with nine regular-season games remaining.
However, the Wizards have a great opportunity for the win tonight when they play San Antonio, who is 19-54 on the year. However, the Wizards are in a slump and have lost seven of their last eight games. The Wizards hope tonight's easy matchup will help turn things around for a final push.
The Pick
Kristaps Porzingis averages 23 points and 8.4 rebounds per game. However, he faces the Spurs, one of the worst teams in the league against opposing big men. After the Spurs traded Jakob Poeltl, they have been unable to keep opposing big men from having huge statistical nights.
The Wizards have been in a slump and Kristaps Porzingis has been as well. But the Spurs are the perfect team to "get right" against. We are getting plus money on this prop. Porzingis will help his team break out of this slump and get back on the winning track by recording a Double-Double tonight.
NBA Prop Pick: Kristaps Porzingis Double Double Yes (+175) at Bet365
---