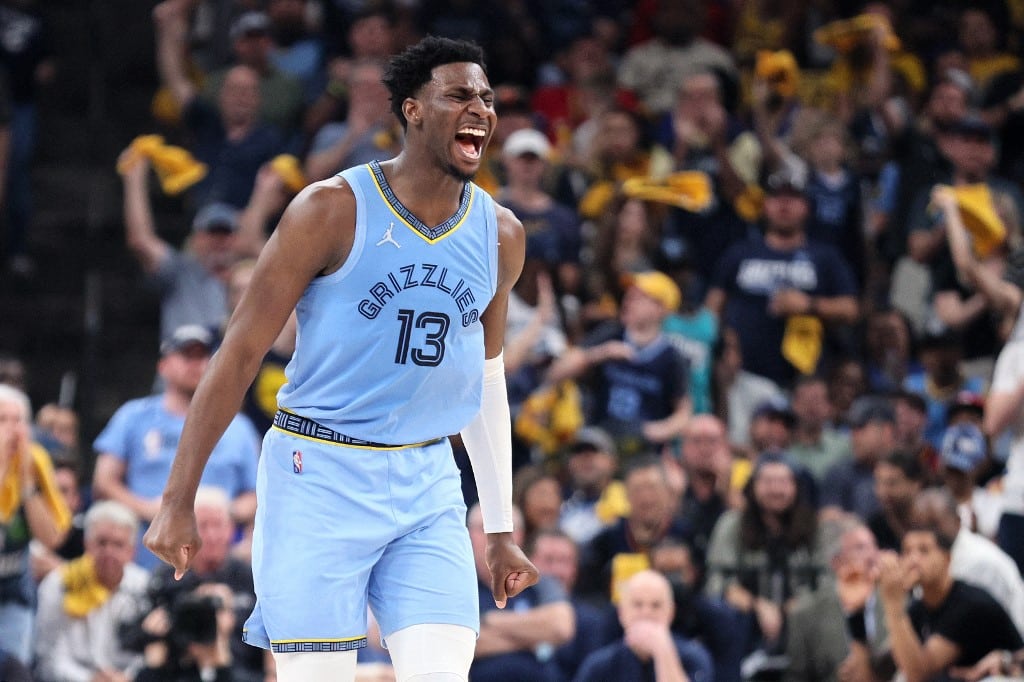 The NBA Playoffs continue tonight as the last of the Game 2s will be played. Two of the road teams playing tonight won in Game 1. This makes for interesting situations when breaking down these player props.
We have 3 games in the NBA Playoffs tonight:
Los Angeles Lakers vs. Memphis Grizzlies
Miami Heat vs. Milwaukee Bucks
Minnesota Timberwolves vs. Denver Nuggets
Using the OddsTrader NBA player prop tool, I found today's best bets for NBA player props.
Picks Summary
Jaren Jackson Jr. Over 22.5 Points (-115)
Brook Lopez Over 6.5 Rebounds (-143)
Rudy Gobert Double-Double Yes (-121)
---
Wednesday, April 19, 2023 – 07:30 PM EDT at FedExForum
---
---
The Los Angeles Lakers took control of the series when they stole game one from the Memphis Grizzlies on Sunday. Winning a road game is important because now if the Lakers win their three home games, they will win the series.
Memphis needs to make a statement tonight by defending their home court if they want to stay alive in the playoffs. Doing so will not be easy however, as their starting point guard Ja Morant, is doubtful for tonight's game with a hand injury that he suffered in game 1.
Yet, it is never wise to count out a tough team such as the Memphis Grizzlies.
Jaren Jackson Jr. (Memphis Grizzlies)
Jaren Jackson Jr went over his point prop total in game 1. Jackson had 31 points on 13-21 of shooting from the field. This season, Jackson has shown increased repertoire in his offensive game. Before, Jackson was a defensive-minded center, but now he has become a force on the offensive end.
Without their team leader Ja Morant in the lineup, the Grizzlies have turned to Jackson to lead them on the offensive end.
Jaren Jackson has gone over this point total in four of his past five games. In all four of those outings, he scored more than 30 points, including a 40-point outing against the New Orleans Pelicans.
The oddsmakers have not adjusted to Jackson being such a potent offensive weapon. Jaren Jackson Jr. will go over his point total tonight.
NBA Prop Pick: Jaren Jackson Jr. Over 22.5 Points (-115) at Bet365
---
Wednesday, April 19, 2023 – 09:00 PM EDT at Fiserv Forum
---
---
The Miami Heat scored the upset victory over the Milwaukee Bucks in game 1. The Bucks lost more than the game, however, as Giannis Antetokounmpo left the game with a lower back contusion. Antetokounmpo is doubtful for tonight's game.
Miami won Game 1, 130-117. The Heat suffered injuries of their own when they lost sharp shooting guard Tyler Herro. Miami has not announced who will start in the place of Tyler Herro.
The difference in game one was the ability to knock down shots from three-point range. Miami went 15-25 from three-point range while the Bucks were 11-45. The Bucks will have to limit Miami's attempts to continue to run up the score with wide-open three-point shots.
Brook Lopez (Milwaukee Bucks)
With Giannis Antetokounmpo most likely sitting tonight, Brook Lopez is needed more than ever in the paint. A defensive stop isn't a stop until the defensive rebound is secured.
That is where Lopez comes in. Lopez plays in a drop coverage, so he is rarely pulled out on the perimeter and is therefore in a position to grab most defensive rebounds. The Bucks will need Lopez's best effort on the boards tonight.
Brook Lopez had only four rebounds in game one. He will need to do a much better job on the glass tonight if the Bucks are to compete.
The Bucks are a championship team and I expect them to bounce back with a strong performance from everybody tonight, including their center Brook Lopez. Lopez will go over his rebounding player prop this evening.
NBA Prop Pick: Brook Lopez Over 6.5 Rebounds (-143) at BetMGM
---
Wednesday, April 19, 2023 – 10:00 PM EDT at Ball Arena
---
---
The Denver Nuggets showed why they were the best team in the West this season when they got an easy 109-80 win against the Minnesota Timberwolves on Sunday night. The Nuggets excelled in all areas of the game and at no point in the game did the Timberwolves seem to have a chance.
The Nuggets did have the rest advantage though, as the Timberwolves had played two Play-In games the week before while the Nuggets had been resting all week. Now the Timberwolves have an excellent chance to bounce back.
Minnesota shot poorly in the loss. They were 37% from the field and only 30.6% on three-pointers. They even missed their free throws, going only 9-16 from the free-throw line. Minnesota knows where they need to improve, yet will Denver allow it?
Rudy Gobert (Minnesota Timberwolves)
Rudy Gobert leads the Minnesota Timberwolves in rebounding at 11.6 rebounds per game. He had 13 rebounds in game one and only missed the Double-Double by two points.
Gobert had a Double-Double in the win over the Oklahoma City Thunder on Friday and closed the season with a stretch of four double-doubles in five games.
The Timberwolves paid a lot to acquire Rudy Gobert and they're going to need a lot from their star center if they are going to remain competitive tonight.
The Timberwolves need to do a better job of rebounding, and Gobert knows that is his specialty. Rudy Gobert will help the Timberwolves bounce back with a Double-Double tonight.
NBA Prop Pick: Rudy Gobert Double-Double Yes (-121) at Caesars Sportsbook
---