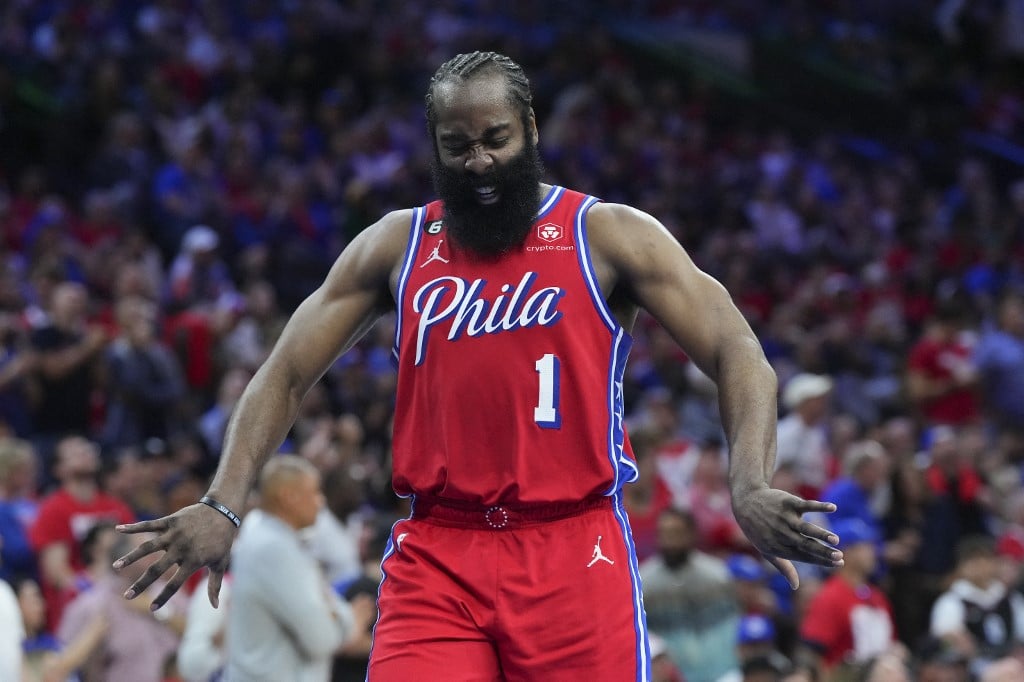 The NBA Playoffs continue tonight. The series are in game 3 with exciting matchups to analyze. This makes for interesting situations when breaking down these player props.
We have 3 games in the NBA Playoffs tonight:
Philadelphia 76ers vs. Brooklyn Nets
Phoenix Suns vs. Los Angeles Clippers
Sacramento Kings vs. Golden State Warriors
Using OddsTrader's NBA player props, I found my favorite picks with the best betting odds for tonight's action.
Picks Summary
Steph Curry Over 30.5 Points (-115)
Joel Embiid Over 11.5 rebounds (-143)
James Harden Double-Double Yes (-105)
---
Thursday, April 20, 2023 – 10:00 PM EDT at Chase Center
---
---
The Golden State Warriors head home to San Francisco down 2-0 in their first-round series against the Sacramento Kings. However, the Warriors have a reason to be optimistic, as they are one of the best teams at home this season. The Warriors had the second-best record in the NBA this year at home, going 33-8.
The Warriors will be missing Draymond Green in tonight's game. Green was suspended for stomping on Kings player Domantas Sabonis during a scuffle in game 2. This will put more onus on the Warriors to be solid offensively, as Green is a major part of their team's defensive scheme.
Steph Curry (Golden State Warriors)
Steph Curry is one of the greatest players of all time and has an opportunity to add to his impressive legacy tonight. Without Draymond Green, the team is going to need to be excellent on offense. This is where Curry comes in. Curry is an explosive player who can get hot and put up points at any time.
I would also expect Curry to get plenty of foul calls tonight. The Sacramento Kings are a small market team, and big media players such as ESPN have been drumming up the bandwagon for support to keep the storylines in the big markets.
ESPN has already begun a campaign to make sure the Warriors get more foul calls. Although sports are supposed to be fair, we know that the NBA and their Media Partners prefer big markets and big names to win. We can take advantage of this bias against small markets by making a winning player prop. Steph Curry will go over his point total tonight.
NBA Prop Pick: Steph Curry Over 30.5 Points (-115) at Bet365
---
Thursday, April 20, 2023 – 07:30 PM EDT at Barclays Center
---
---
The Philadelphia 76ers held serve by winning their two home games against the Brooklyn Nets. The 76ers were in control of both games. The Nets need to make a statement tonight or this series and their season are over.
The Nets remade their team after the All-Star Break by trading away stars Kevin Durant and Kyrie Irving. Rather than being a star-driven team with no depth; they are now a deep team with no stars. While that brought them some measure of success during the regular season, it is tough to win in the NBA Playoffs without a star player to lead the way.
Joel Embiid (Philadelphia 76ers)
One of the Nets major problems against the 76ers is their lack of size to match up with 76ers MVP candidate Joel Embiid. The Nets run Nic Claxton at center, a center in the mold of the new NBA.
Claxton is a little smaller than traditional centers and much quicker, which is important because he cannot be attacked when he makes a switch in the pick-and-roll. However, this does make the Nets vulnerable to traditional centers with size who play down low.
This is a terrible matchup for the Nets as they simply have no answer for Joel Embiid. Embiid will once again feast on the glass. Embiid averages 10.2 rebounds per game this season. Embiid had 19 rebounds in game 2 against the Nets.
Joel Embiid will have another big night on the boards and will go over his rebounding player prop this evening.
NBA Prop Pick: Joel Embiid Over 11.5 Rebounds (-143) at BetMGM
---
The Philadelphia 76ers have an opportunity to take a commanding 3-0 lead tonight. This would essentially end the series, as no team has ever surmounted a 3-0 deficit. With the season on the line, the Nets should give a great effort tonight. However, do they have the talent to keep up with Philadelphia's star studded cast?
James Harden (Philadelphia 76ers)
James Harden was at one time an MVP candidate and the leading scorer in the league. As he has gotten older, however, he has refined his game to be more of a playmaker and a facilitator rather than the primary offensive option on his team. This is seen by Harden's assist numbers this season. Harden led the Philadelphia 76ers averaging 10.7 assists per game.
James Harden averaged a Double-Double this season. Harden got a Double-Double in game one, although his output was muted in game 2. Harden ended the regular season with a streak of three Double-Doubles in five games.
Harden knows the 76ers have an opportunity to end this series early and get the team some much-needed rest. James Harden will help the 76ers take a commanding lead with a Double-Double tonight.
NBA Prop Pick: James Harden Double-Double Yes (-105) at BetMGM
---