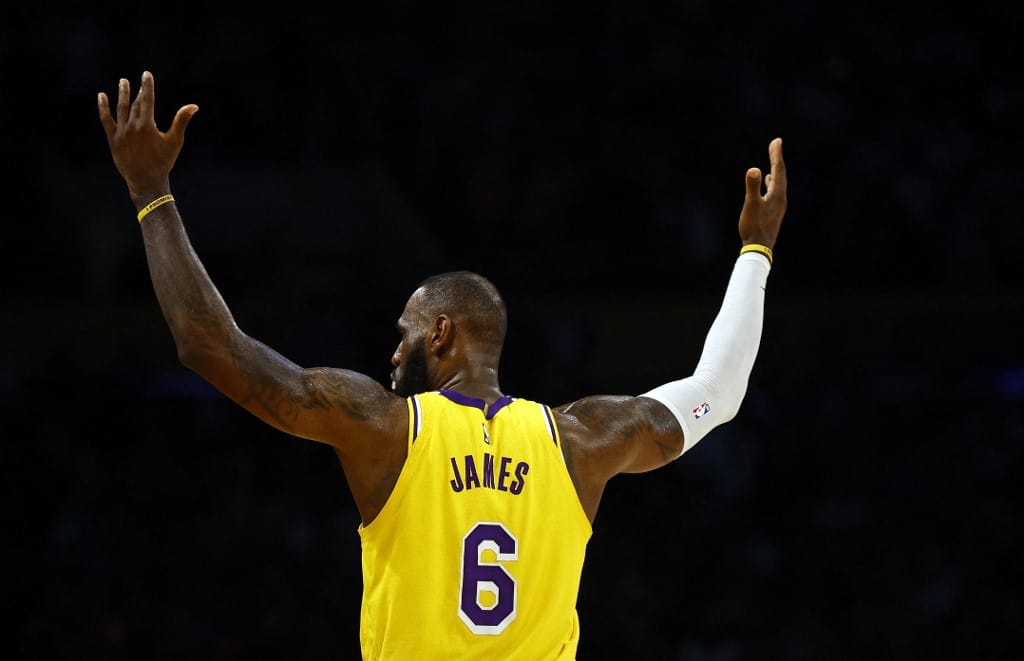 The NBA Playoffs continue tonight and there are three teams who have a chance to end their series tonight. All three teams are on the road.
Using OddsTrader's NBA player prop tool, I found today's Best Bets for NBA player props.
Picks Summary
RJ Barrett Over 17.5 Points (-119)
Jrue Holiday Over 4.5 Rebounds (-161)
LeBron James Double-Double Yes (-149)
---
Wednesday, April 26, 2023 – 07:00 PM EDT at Rocket Mortgage Fieldhouse
---
---
The New York Knicks have the opportunity to get their first playoff series victory since 2013 when they play the Cleveland Cavaliers in Cleveland tonight.
The Knicks took a 3-1 series lead with a 102-93 win on Sunday at Madison Square Garden. Jalen Brunson led the way for the Knicks with 29 points, 6 rebounds, and 6 assists. The Knicks are one game away from advancing against the higher seed.
RJ Barrett ( New York Knicks)
While Brunson was the team's leader on Sunday, the play of RJ Barrett has been an unexpected surprise and a big reason why the Knicks have been so successful in this series. Barrett allows the Knicks to play smaller and faster, and the Cavaliers have had problems matching up with someone of his speed at his size.
With Barrett on the floor, the Knicks can counter the Cavs size with a small ball lineup that uses quickness to take advantage of the Cavs defensive deficiencies.
Barrett has been the target of much ire from Knick's fans, so it must be particularly rewarding for him to show up and show out when the lights are shining brightest. RJ Barrett will go Over his point total tonight.
NBA Prop Pick: RJ Barrett Over 17.5 Points (-119) at Caesars Sportsbook
---
Wednesday, April 26, 2023 – 09:30 PM EDT at Fiserv Forum
---
---
The Milwaukee Bucks were expected to cruise past the eight-seeded Miami Heat. However, they surrendered a 12-point lead in the 4th quarter on Monday night and now are in a position where they could be eliminated tonight.
The Bucks are heavily favored by NBA odds, yet they have not lived up to expectations so far in this series.
Only 13 teams in NBA history have overcome a 3-1 deficit. The most recent team to do this was the Denver Nuggets in the 2020 playoffs. The Bucks will hope to be the 14th team, or this season will be considered a massive disappointment.
Jimmy Butler has stolen the spotlight in this series and the Bucks will need Giannis Antetokounmpo to match his brilliance if they are to stay alive. This has been an exciting series and an upset could be brewing in Milwaukee tonight.
Jrue Holiday (Milwaukee Bucks)
Jrue Holiday has exceeded 4.5 rebounds in six straight games. Over that six-game span, Holiday is averaging 6.8 rebounds per game. He has been guarding bigger players, which pushes him down low more often. This is giving him plenty of opportunities to grab defensive rebounds and start the fast break.
Because of the matchup, Jrue Holiday has found himself down low and in a position to grab more rebounds than in the regular season.
We will take advantage of reading this matchup to make another winning player prop. Our second pick for the day is Jrue Holiday to go over his rebounding total.
NBA Prop Pick: Jrue Holiday Over 4.5 Rebounds (-161) at BetMGM
---
Wednesday, April 26, 2023 – 07:30 PM EDT at FedExForum
---
---
The Memphis Grizzlies boldly stated that they weren't worried about anyone in the Western Conference. Well, they should be worried now as they face a 3-1 deficit to the 7th-seeded Los Angeles Lakers.
The Grizzlies have talked a lot of trash, yet have failed to back it up. Can they save face tonight or will the Grizzlies loud season end in quiet disappointment?
The Grizzlies will have the advantage of the home fans tonight. They will need it because they have failed to keep up with the Lakers on the court. Memphis needs more energy and some strategic adjustments in order to stay alive.
LeBron James (Los Angeles Lakers)
In the Game 4 win, LeBron James had 22 points and 20 rebounds. For the series, LeBron James is averaging, per game:
24 points
13 rebounds
5 assists
1.8 blocks per game
LeBron James has scored 21 or more points in every game in the series.
The Grizzlies have not been able to keep LeBron James off the glass and we know he will score more than 10 points. Therefore, making this bet is simply betting that he will get more than 10 rebounds. We have a huge edge here as this line should be close to -180.
LeBron James will continue to dominate with a Double-Double tonight.
NBA Prop Pick: LeBron James Double-Double Yes (-149) at BetMGM
---