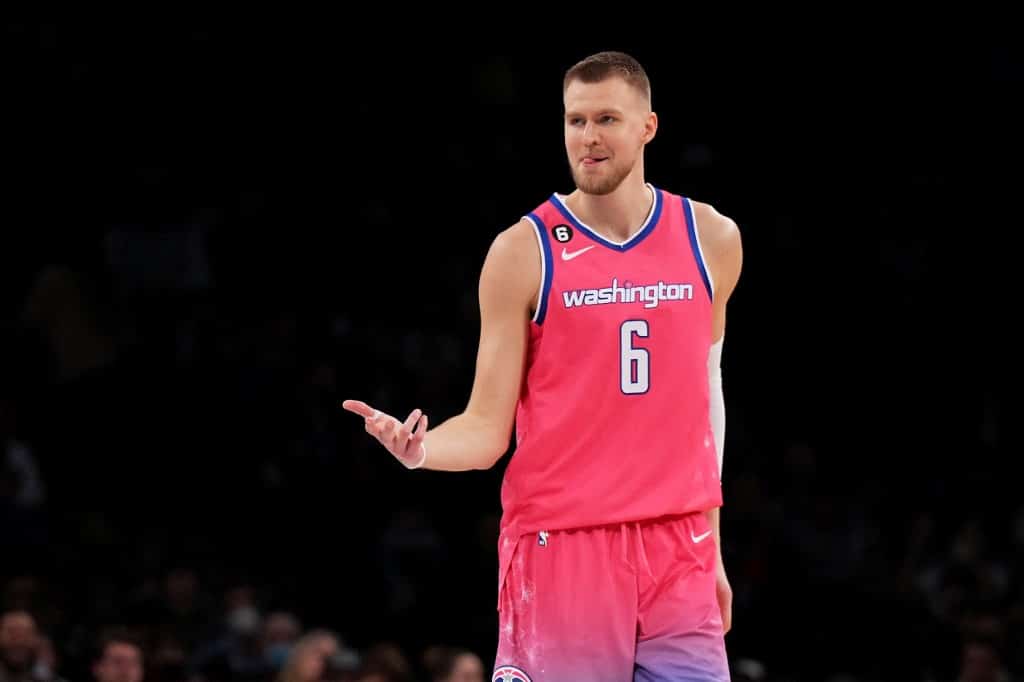 Picks Summary:
Mikal Bridges Over 25.5 Points (-110)
Kristaps Porzingis Over 8.5 Rebounds (-133)
Jakob Poeltl Double-Double Yes (+170)
The NBA brings us more action for tonight and we are excited to find more winning player props.
We have a fun NBA slate tonight. There are exciting matchups for us such as the Brooklyn Nets vs. Oklahoma City Thunder, the Detroit Pistons vs. Washington Wizards, and the Denver Nuggets vs. Toronto Raptors.
---
Tuesday, March 14, 2023 – 08:00 PM EDT at Paycom Center
---
Mikal Bridges (Brooklyn Nets)
The Brooklyn Nets and Oklahoma City Thunder are both playing good basketball coming into tonight's showdown in Oklahoma City. Both teams have won five of their last six games. Which team's hot streak will come to an end when the Nets take the floor against the Thunder tonight?
The Thunder will need this win to stay alive for the Play-In tournament in the Western Conference. Four teams have a 33-35 record and the Thunder will need to win games such as tonight when they have home-court advantage. The Thunder is a slight favorite by NBA odds.
The Pick
For the season, Mikal Bridges is averaging 18.8 points per game. However, in his time with the Nets, he is averaging 26.1 points per game. He has gone Over this total in four of his last six games. In one of those games, he was limited to 12 minutes by his coach and in the other, he missed it by a half-point.
Bridges has used this trade as an opportunity to show that he too can be an offensive creator. In Phoenix, he was relegated to the "3&D" role but here in Brooklyn, he is getting the green light to show all that he can do with the ball in his hands.
Bridges is taking advantage of the opportunity to increase his scoring average by 8 points per game. We will see another big game from Mikal Bridges tonight as he goes Over his point prop total.
NBA Prop Pick: Mikal Bridges Over 25.5 Points (-110) at Bet365
---
Tuesday, March 14, 2023 – 07:00 PM EDT Capital One Arena
---
Kristaps Porzingis (Washington Wizards)
The Washington Wizards come into tonight's game in a slump, and at the worst possible time. The Wizards were playing strong basketball and looked to be solidifying their spot in the NBA's Play-In tournament, but their play over the last two weeks has put them in a tough spot.
The Wizards have only got one win in their last six games. Fortunately for Washington, tonight they will play the one team that they've defeated over the last six games in this contest, the Detroit Pistons. Washington is currently one game behind the Chicago Bulls for 10th place in the Eastern Conference.
The Pick
Kristaps Porzingis leads the Washington Wizards and points and rebounding. Porzingis averages 8.5 rebounds per game, exactly what tonight's total is set at. However, he faces an excellent matchup against the Pistons. In the middle of the rebuild, the Pistons are playing young players at the center which should give Porzingis an advantage inside. Porzingis has an excellent opportunity to put up a huge statistical night tonight.
The Detroit Pistons have opted to develop their young players rather than try and win now. The Washington Wizards and Kristaps Porzingis will be able to take advantage of that. Kristaps Porzingis is an excellent bet to go over his rebounding total tonight.
NBA Prop Pick: Kristaps Porzingis Over 8.5 Rebounds (-133) at Caesars Sportsbook
---
Tuesday, March 14, 2023 – 07:30 PM EDT at Scotiabank Arena
---
Jakob Poeltl (Toronto Raptors)
The Denver Nuggets and Toronto Raptors both come into tonight's game going through a rough stretch. Both teams have lost three games in a row. One team will end their losing streak tonight. The Nuggets' most recent game was a 122-120 loss at home to the Brooklyn Nets. The Raptors' most recent game was a 122-112 loss to the Los Angeles Lakers
The Pick
Jakob Poeltl played an excellent game against the Nuggets when they met in Denver. In just 32 minutes he had 18 points and 9 rebounds. At the strong price we are getting tonight it is worth a wager to assume that he can get at least one more rebound in a game where his size will be necessary.
Poeltl's most recent outing was a double-double and I expect that trend to continue tonight. Not all plus-money picks are going to win but this plus-money pick is plus EV.
NBA Prop Pick: Jakob Poeltl Double-Double Yes (+170) at FanDuel