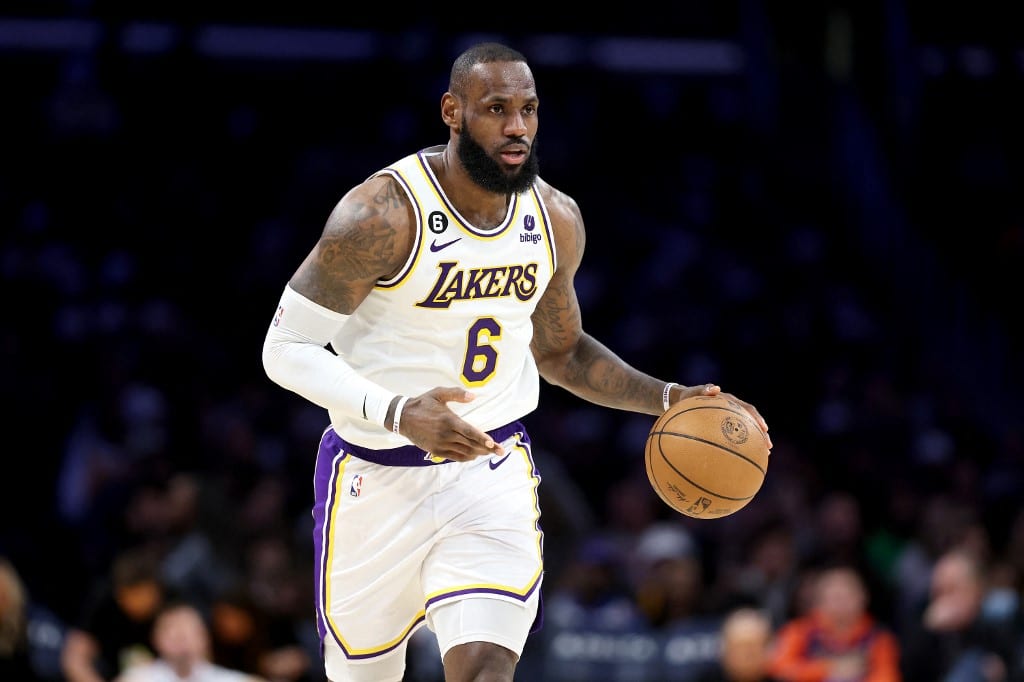 We have a fun slate tonight to find the best player props in the NBA. There are plenty of intriguing games on the board, and today we'll look at three of them:
Thunder vs. Nuggets
Nets vs. Warriors
Lakers vs. Trail Blazers
With the OddsTrader BetStation, we found the best prices for today's player prop betting picks.
The app is available for free on your device's app store. It will show you statistical comparisons of each matchup, information on past meetings, as well as spread movement, injury news, and even the weather forecast.
---
Sunday, January 22, 2023 – 08:00 PM EST at Ball Arena
---
---
Shai Gilgeous-Alexander (Oklahoma City Thunder)
Most NBA observers, including myself, expected that the Oklahoma City Thunder would tank again after losing their number two pick Chet Holmgren for the season. Shai Gilgeous-Alexander had different ideas, however.
Alexander has emerged as an all-NBA caliber player, and the strength of his play has led the Thunder to be a respectable 22-24 on the year. Alexander has had multiple point-scoring explosions so far this season and he has been clutch when it counted.
Shai Gilgeous-Alexander is shooting 50% from the field, 90% from the free throw line, and 35% from behind the 3-point arc. He is averaging almost a point per minute scoring 1286 points in 1493 minutes. Alexander has been nothing short of spectacular this season.
The Denver Nuggets struggle against the elite point guards. Steph Curry is averaging 34 points a game against the Nuggets, Damian Lillard is averaging 37.3 points per game against the Nuggets, Dejounte Murray put up 34 points in his outing against the Nuggets, and De'Aaron Fox is averaging 28.5 points per game against the Nuggets this season. Simply put, top point guards have big nights when they face Denver.
The Pick
I expect Shai Gilgeous-Alexander to join the line of elite point guards to put up some of their best games this season against the Denver Nuggets.
The Nuggets' weakness against the point guard position stems from the fact that their best defenders, Aaron Gordon and Kentavious Caldwell-Pope, both are more suited to face bigger wing players who might not be near as lightning-quick.
The quickness of the best players at the point guard position has been too much for the Nuggets they handle. Let's start our night right by taking Shai Gilgeous-Alexander over 28.5 points at -123 betting odds.
NBA Pick: Shai Gilgeous-Alexander Over 28.5 Points (-123) at Caesars Sportsbook
---
Sunday, January 22, 2023 – 08:30 PM EST at Chase Center
---
---
Nicolas Claxton (Brooklyn Nets)
The Brooklyn Nets continue their west coast road trip after an impressive win over the Utah Jazz on Friday night. Brooklyn has been playing without its star Kevin Durant and lost its first four games without him before the 117-106 win in Utah. Now the Brooklyn Nets have an opportunity to end the road trip on a good note.
The Golden State Warriors have recently made a lineup change going with a smaller lineup to start the game. This means fewer minutes for Kevon Looney and more minutes for Jordan Poole. Going small means an opportunity for us to target big men against the Golden State Warriors.
The Pick
Nicolas Clarkson has led the Nets in rebounding at 8.5 rebounds per game. However, as of late has been putting up even more as his minutes have been getting increased. He has gone over this rebound number in four of his last six games.
The Nets will be reliant on Claxton tonight to clean up on the boards. His ability to switch on the defensive end will be needed against the Golden State Warriors. The Warriors run a motion offense that will get every defender involved in the action.
When you combine the Warriors' smaller lineup with their need to have the quicker Claxton on the court, it all adds up to a big night on the glass for Claxton.
NBA Pick: Nicolas Claxton Over 9.5 Rebounds (-121) at BetRivers
---
Sunday, January 20, 2023 – 09:00 PM EST at Moda Center
---
---
LeBron James (Los Angeles Lakers)
Los Angeles Lakers and the Portland Trail Blazers face off tonight in what is expected to be a high-scoring game. The total for this game is 239.5. So the sportsbooks are expecting a lot of points, which bodes well for NBA player props. The Los Angeles Lakers will be looking for a win. They have only won two of their last six games.
Portland Trail Blazers come into this game on an even worse run, having lost 11 of their last 15 games. Portland is currently in 12th place and the Los Angeles Lakers are in 13th place in the Western Conference standings.
This should be a hard-fought game. Both teams will be looking to get the win and keep their playoff hopes alive. Games like this in January can have a big effect on the standings at the end of the season, and veteran players like LeBron James know this.
The Pick
LeBron James has recorded a double-double in five of his last nine games. With this game being important to the standings, we can expect LeBron to go all out and try to keep his team relevant and alive for the playoff hunt.
With so much on the line for playoff seeding, we can expect a high-paced game from both teams. This means planning opportunities for rebounds and assists.
LeBron James is a unique player in that he can get to the Double-Double with either the rebounding or the assist category. Our final play for the night is the LeBron James Double-Double.
NBA Pick: LeBron James Double/Double Yes (+100) at Unibet
---