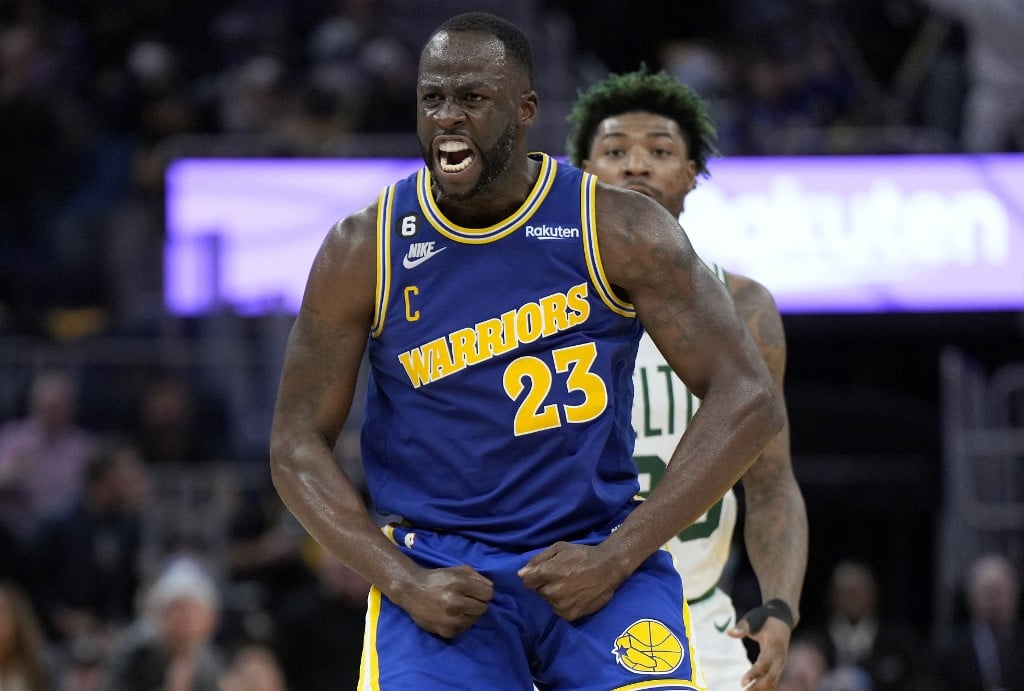 The NBA season continues and we have a packed slate tonight for NBA player props. There are plenty of great games on the board such as:
Toronto Raptors vs. Golden State Warriors
Memphis Grizzlies vs. Minnesota Timberwolves
Orlando Magic vs. Miami Heat
With OddsTrader BetStation, you can find the best NBA odds for the player props you are looking for.
The app is available for free on your device's app store. It will show you statistical comparisons of each matchup, information on past meetings, as well as spread movement, injury news, and even the weather forecast.
---
Friday, January 27, 2023 – 10:00 PM EST at Chase Center
---
---
Draymond Green (Golden State Warriors)
The Golden State Warriors host the Toronto Raptors tonight in the Chase Center. Both teams are coming off wins. The Warriors defeated their rival Memphis Grizzlies 122-120. It was just the fourth win in the Warriors' past 10 games.
The Toronto Raptors are also coming off of a satisfying victory, holding the high-scoring Sacramento Kings to a season-low 95 points in a win in Sacramento on Wednesday night. Now they face the test of the defending NBA champions.
Both teams are in a situation where they need to be looking for wins. The Raptors are a disappointing 22-27 and the Warriors are a mediocre 24-24.
The Pick
With the Warriors on the brink of falling out of playoff contention, Steve Kerr has made a drastic move to the starting lineup. Kerr has taken out center Kevon Looney in favor of a smaller lineup that features sharp shooting guard Jordan Poole. This means that Draymond Green will play center.
Draymond Green is only averaging 7.3 rebounds per game. Yet since being moved into the starting lineup, he has gotten over double digits in rebounds in all three games. He has had 13, 11, and then 13 rebounds in each game as the starting center.
Until the books adjust to the fact that the Warriors' lineup and rotations have changed, Green will continue to go over this prop. Expect Draymond Green to grab a bunch of defensive rebounds tonight as the Warriors' primary rebounding player.
NBA Prop Pick: Draymond Green Over 8.5 Rebounds (-117) at Caesars Sportsbook
---
Friday, January 27, 2023 – 07:30 PM EST at Target Center
---
---
Jaren Jackson Jr. (Memphis Grizzlies)
The Memphis Grizzlies come into tonight's game against Minnesota on a four-game losing streak. Tonight will be the last night of a five-game road trip for the Grizzlies. This came on the heels of a franchise-high 11-games win streak.
The Timberwolves are playing well as of late and have won 9 of their last 13 games. Their most recent game was a 111-102 win in New Orleans against the Pelicans on Wednesday. After a disappointing start, the Timberwolves are finding their groove. Tonight marks the beginning of a six-game homestand for the Timberwolves.
The Pick
This is another spot where we're going to use a change in the lineup to find an advantage in the player prop market. Steven Adams has been hurt for the Memphis Grizzlies which means Jaren Jackson Jr. has been getting more usage in the middle.
In the two games, since Adams was injured, Jaren Jackson Jr. has gone over his point total. He scored 19 points in 28 minutes against the Sacramento Kings and followed that up with 17 points in 28 minutes against the Golden State Warriors.
These outings show that even if Jackson has limited minutes due to foul trouble, he can still go over this number. Without Adams, Jackson has more room to grab offensive rebounds and has become a bigger option in the Grizzlies' offense. Until Adams returns, Jackson will see a statistical bounce.
NBA Prop Pick: Jaren Jackson Jr. Over 15.5 Points (-125) at Bet365
---
Friday, January 27, 2023 – 08:00 PM EST at Miami-Dade Arena
---
---
Wendell Carter Jr. (Orlando Magic)
The Magic are on a roll recently having won three of their last four games. They beat the team with the NBA's best record, the Boston Celtics, on Monday night, and then followed that up with a win over the Indiana Pacers. It was the team's first consecutive victory since December 23rd.
In the win, the Orlando offense was balanced. All of the Orlando starters put up double-digit scoring. Paolo Banchero led the team with 23 points, and Wendell Carter Jr. had a double-double.
The Pick
The double-double was Carter's second straight and it was his sixth since the beginning of 2023. The Magic are 5-1 when Carter scores a double-double. Carter has had a double-double in five of his last eight games.
After struggling with health earlier in the season, Carter is finally healthy and the results are starting to show. Since his recent results are much higher than his season averages, we are getting a nice opportunity to make a bet in which we have found value.
NBA Prop Pick: Wendell Carter Jr. Double-Double / Yes (+195) at BetMGM
---